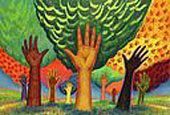 Children

today, seem to be more in tune with man-made things, perhaps because of our excessive preoccupation with materialistic things. We need to veer their attention gently towards the natural surroundings. Trees are an interesting topic
for 'Observation'. Often we find, that we adults can't identify

trees

and

flowers

and are at loss to answer our children's queries about them. This may just be perhaps because we took

trees

to be a part of nature-furniture and never really looked at them. Let's teach our

children

to indulge in tree gazing.


Nature of Trees
Take your children out - in the morning or early evening - to tour the neighbourhood. Let them acquaint themselves with the common trees in the locality. Try not to restrict this as a one-time activity. It has to be a continual process, only then will they learn the nature of trees.
Tell them to observe the trees minutely. Prod them to describe what they see - whether the tree is tall, short or leafy. Let them describe and verbalize the size, shape, colour and other attributes of the tree. This way you can also gauge what they know and at what level you can explain facts to them.

Berries, Bees and Birds
Are there flowers on the ground beneath the tree, then there should be some on the tree; they will deduce. Gradually they will learn to identify particular flowers with particular trees. Tell them the names of the trees - flame of the forest, corals, banyan, mango and so on. Children have a good memory and a tremendous capacity to absorb information like a wet sponge. As they grow in age and evolve into the game, they will start noticing finer aspects of the tree life - notice bees, berries and birds. Slowly, over time they will start making associations. They'll instinctively know that coppersmiths frequent banyan trees to feast on the berries and that parrots nibble at the blossoms of the mango tree.

Trees are Lively
Slowly, they will learn that the tree is a complex system in itself, supporting lives. And they will soon be able to make sense of the jumbled world of trees around them - that a hole in the tree is not just a nondescript physical attribute of the tree trunk but has a larger purpose. They'll realize that it is a home to a woodpecker's chicks or perhaps, a few owlets! They'll notice that the chirruping sound coming from the leaves is not another bird, but is an animal, the squirrel, instead. Slowly, they will come to terms with the interdependence of life and the fine network of food chain at their own elementary level.
Children love picking up things from the ground - whether stones or sea-shells. Therefore, encourage them to collect interesting-looking leaves and flowers fallen on the ground; they'll rejoice in taking them back home as trophies. Put them in a scrap-book and have them trace their shapes. Show them how leaves change colour and become dull on drying. If the child is a little older, say in the age group of 6- 10 years, he can maintain a diary or a scrap-book to make jottings of his discoveries.

Cycle of Seasons
If tree gazing becomes a habitual activity, then your children can see how trees change in appearance with change in seasons. Let them follow the cycle of seasons; observe the autumnal falling of leaves and the change in their colour and the transformation of trees into a skeleton of bare branches and twigs. Let them exult in the pre-monsoon fashion parade, when the trees garb themselves abundantly in shimmering leaflets.

Monkeying Around Trees
Many of us indulged in the pastime of climbing trees when we were young, but our kids seem to have lost out on that simple, yet fun-filled activity. When they grow bored of the Jungle Gym and Slide in the park, have them climb trees. Let them scrape a knee or two, it'll be worth it.