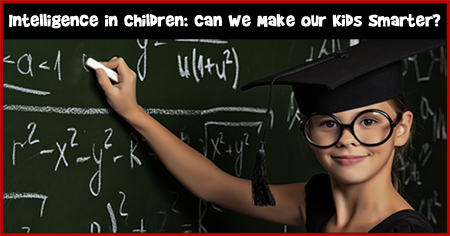 According to research and studies conducted, there are several ways to make the brain function better. Here are some ways to make your kids smarter.

Learning is a constant process which happens at every stage of childhood. However, all parents are not happy when their children perform well. Parents too must learn to be content with their kids without constantly putting pressure on them.
If you really want your kids to be smarter, then you can try these methods:
Building Blocks
Playing with blocks promotes overall development in kids. They enhance cognitive skills along with improving children's gross and motor skills. This open ended activity is great for your child's physical, emotional and language skills. As children think, run and play with blocks they end up having fun and become smarter as well. Imagination skills are given a boost and it improves
creativity
as well.
Whether it is newborns or preschoolers, all kids love the colours, structures and games associated with building blocks.
Exercise
Exercise stimulates areas of growth in the
brain
and helps kids learn. Aerobics and other physical activity improve
concentration
in kids helping them to focus in
studies
and class. However, let children choose the type of exercise which they enjoy.
Do not force the type of exercise. Studies show that exercise improves mood as well. Obesity is not good hence ensure that your kids are not sitting idle. Regular exercise is good for the brain and body.
Sleep
Sufficient sleep removes tiredness and makes the brain alert. Do not make your child so tired that he or she has no time to sleep. Children with improved sleeping habits perform better in school as compared to kids who sleep poorly.
Missing even one hour of sleep can be detrimental hence children should not compromise on sleep. Sufficient sleep has been linked to better grades and performance in school. Hence, put your child to bed early so that he or she is fresh next day.
Peer Group
The success of kids also depends on the type of peer group they are exposed to. As your child mingles with others, he or she will pick up traits and qualities from them. Hence, try to ensure that your kids are in a positive environment with good company.
Children should not make friends with those who are negative or bad influence. Hence, living in a good neighbourhood also matters. There is no use if you are teaching your child to help others and be nicer but he or she hangs out with others who do the opposite. All your teachings will go in waste if your child is not mingling with the right peer group.
Motivation and Self Belief
Improve your child's confidence levels by believing in them. Don't criticize or put them down. Help them to make better decisions in life by supporting them. Help them to make better choices in life which will improve their present as well as future.
Shouting at kids all the time can impact their self confidence and self esteem. Hence, teachers should also not be too harsh by punishing kids severely.
Final Tips
Thus, there are several ways to make your child intelligent and smarter. You can enrol him or her in music lessons. Studies show that children who pursue music right from a young age can develop better IQ.
The above tips can be used to make your child smarter or intelligent however you must also remember that genetics plays a big role. Parents give birth to children with similar genes like them hence you cannot always blame your kids if they are not up to the mark. Remember that you too were a child once like them and you too made mistakes while growing up. Hence, try to be positive and happy so that your kids do the same.
How to raise smarter kids? Is it possible to improve intelligence of children? What are the ways to stimulate brain development in children? Discuss here.