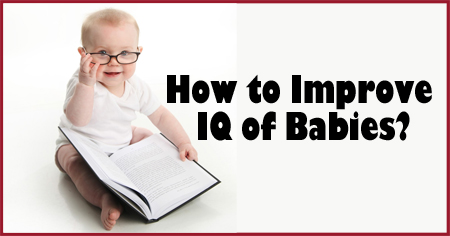 Early growth years are very crucial for improving IQ and brain development of children. Read on and find tips to improve IQ of babies.
IQ or intelligent quotient has become an extremely popular term with modern day education systems trying to measure it through analytical tests. The IQ of an individual is a measure of their intelligence and the capability to do certain kinds of things. Students are being grouped and coached for particular vocations according to their IQ. It, so say the researchers, would help kids develop to their fullest.
Needless to say, a high IQ obviously guarantees that your child is suitable for more refined vocations, like being a scientist etc. While IQ is not the ultimate measure of a person's capabilities, it helps to have a better IQ. So long it was thought that IQ of a child depended on their genetic constitution. However, it has been found out that training a child in certain ways while they are young can help increase their IQ. If you want your child to have a higher IQ, there are certain things you must do while they are still a baby. We have listed some ways you can enhance your child's IQ level.
1. Talk to Them
Verbal IQ is one where a person has a great vocabulary and verbal intelligence. Researchers have suggested that, the children who are exposed to a lot of talking as a baby grow up to develop great verbal skills. Talk to your child, the more number of words she hears, the more will be her vocabulary. Make a conscious effort to use different words while talking to your child. That way, children do not learn only a few words. Talk about things they know, like toys or food. If your child points to something, tell her what it is called.
2. Reading
It is a proven fact that an exposure to story books is the best way to increase one's IQ at a very young age. While your little baby cannot read the books herself, you can definitely read it to her. Get all types of children's books with pictures. As you read, your child will develop a curiosity and desire to read herself. They will learn words and new things through pictures. It will make them become readers when they grow up. Do not busy them with toys, busy them with picture books and tell them what the pictures are of. Read the same books and finish them each time, that way the memory of your child is also sharpened as she tries to remember what happens in each book.
3. Alone Time
Parents never leave their babies alone. They feel that babies have to be taken care of every single minute, but that is not the case. While you should keep an eye on your baby at all times, lest she gets herself into some danger, you should not occupy her all the time. Read to her and play with her, but leave her to herself for some time. It has been seen that babies develop better IQ if they try to learn things on their own. Let them play themselves or turn the pages of the book alone, etc. to sharpen their IQ.
4. Sign Language
Teach your baby to communicate through sign language before she learns to speak properly. While you should keep talking to your child, simultaneously teach her sign language. Tell her that clapping means she wants to play, raising two fingers means she wants to go to the bathroom, etc. Keep teaching her until she perfects it. Research shows it enhances the IQ if children learn sign language.
5. Breastfeed
Even though this is debatable, mothers are advised to breastfeed their children for as long as possible. It helps mental development. Breast milk has many nutrients which help in brain development and boosting IQ of children. Long-term breastfeeding has its own advantages. If long-term breastfeeding is not possible, mothers should breastfeed their babies at least for six months.
Try these tips to help your child develop a higher IQ and perform well in life. Remember that early childhood years are most crucial years for boosting IQ and brain development of children.
How to boost IQ of babies? What are the ways to improve brain development in babies? What is the importance of breastfeeding for improving IQ of babies? Discuss here.