Child Development Topics..
What parents are currently discussing?
Child Psychologist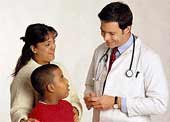 Many parents shudder at the idea of showing their child to a child psychologist. What! My child is not crazy! Why does he need to see a psychologist? And then the old school of thought so prevalent in our society. Our parents, grandparents and great grandparents never saw psychologists, and they were fine, weren't they? This is just a silly fad!
Most people, by they time they become parents, forget what it was like to be a child. When you are a child, you often get taken for granted. Your opinions are discarded, and your wishes don't count. How often have you seen children crying because their parents took them shopping or to run some errands and then ignore the child's pleas to go back home? How often do you shut a child up by saying the words "Because I said so!" without providing a reasonable explanation? While all this certainly does not constitute bad parenting, it may provide insights into your child's behaviour. Childhood is a complicated time. A child's demands are high, and these demands tend to get overlooked often. Your child has to go 'urgently' to a friend's party, while you take your time coming home, wrapping up the present and dropping him off, with the result that your child starts crying and you laugh off your child's tears saying "Don't be silly, we will be there in some time." After all, in your mind, it is not important, but in your child's mind, this party was going to be the best party of her life, and it was the most important event ever for your child.
These are the years when your child is developing his personality, and the way you bring him up plays a crucial part in his personality development.

Discipline
Most parents believe that all you really need to do is discipline your children and at the same time, show them that you love them, and that should be more than enough. However, it isn't. Your child may grow up to be polite, well mannered and intelligent, but he may still have some self-esteem issues. You will find that such a child only truly builds his personality once he leaves home to study in another city or country. If you are a strict disciplinarian, make it a point to be equally disciplined yourself when it comes to coping with your child's reasonable demands. If you make it a point to ensure your child finishes his homework before going to that party, also make it a point to be there on time to drop him off and pick him up.
There may be certain things you say and do as a well meaning parent, which causes your child to feel bad about himself through no fault of your own. 8 year old Aryan would flare up everytime his parents asked him to clean up his room, because this feeing was compounded with a feeling of guilt that he hadn't yet cleaned it up, a feeling of inadequacy for being unable to clean it up, and a feeling of anger directed towards the parents, who just didn't understand that he wanted to clean it up and has cleaned up a part of it, but the just do not appreciate that. You as a parent are totally justified in your demands, but your child is going through a range of emotions which he cannot discuss with you or with his friends, as not many young children discuss their parental problems with their friends. The best person to discuss this with would be a child psychologist. The psychologist serves as a medium between you and your child, and will be able to accurately convey your child's feelings to you, and you would be able to modify your behavior accordingly. In addition, children feel important when they are being listened to, and when their feelings and wants are been taken into consideration. Often a parent may be too busy or otherwise occupied to listen to their child, and while they may not realise it, their child may feel extremely hurt by what they perceive as a snub. Yes, they will forgive you and go on to play elsewhere, but when it happens a second, third and fourth time, it will certainly show up in their personality development. A child psychologist will be able to bring this to your attention.
How often should your child see a psychologist is entirely upto you, but a child should see one often enough, in order to develop a rapport. You could perhaps arrange for your child to visit the school psychologist once a week or once in two weeks, especially if you feel your child displays feelings of anger and aggression, is extremely shy or is weak in his studies. Do not under any circumstances convey to your child that it is a big deal to be seeing a psychologist. It is not, and many

parents

whose

children

regularly visit psychologists swear by them. According to Nita Sharma, whose both

children

see a psychologist once in two weeks, "Every child should see a psychologist. I don't believe that something should be 'wrong' with your child."
You may also be interested in:
Recent comments (173 comments)
Name: mrs. sharma
Country: India
hi...actually my daughter is very arrogant type girl... some times she pretend that she is very intelligent and some type she is like very stubborn girl and fool type things doing..may be she is 7+ i really don't know how ca n manage her. am working women and second thing am single mother... am in very tension, hoe can i control her...pls help me and give some best tips abt her... thanks..
Name: Alok
Country: India
Hi Manu, you are right in choice of the doctor. Dr Dherandra is really good. He words in delhi and in Noida, he is with Apollo Hospital. you can mail him at dr@psyindia.com and his website is www.psyindia.com. you can easily find his details on net.
Name: Manu
Country: India
I have come to know that Dr Dherandra Kumar, who is one of the best child psychologists in Delhi has started sitting in Noida. Can somebody give me his address, please?
Name: PALS for Children
Country: India
Hi, We at PALS provide Psychological-Academic- Learning Services at Rajouri Garden, Delhi. Child Psychology is not only about behavioural or emotional problems but also about instilling positive traits and to promote awareness aong children regarding various aspects. Our Director Ms. Deepali Batra (Child & Clinical Psychologist) is actively working in all these areas. For more details you can contact us on www.deepalibatra. com
Name: nihal
Country: India
i think its very difficult to understand a child..they have many thoughts in the mind which we cant understand
Name: siya
Country: India
hey this article is very helpful.. it has help me to understand my child's thought and feelings which i would hurt unknowingly
Name: Chetan
Country: India
Hi, I think the critical first step is to realize that there can be many many issues and influences which can mentally disturb or impact a child, and obviously each of these is not "madness". In fact that is the difference between psychology and psychiatry - an important difference to understand. I think the article on the India psychology blog at http://enricheducation.com /blog/articles/blog.html explains the difference very well. cheers.
Name: Meghna.Bhagwati
Country: India
Hi this is Meghna Bhagwati child Consultant Counsellor. I have started my own Blog the Address of my Blog is - http://jaipurchildcounse llor.blogspot.com anyone wants to connect me or become a follower can see my Blog. And can contact me. Thanks
Name: Meghna Bhagwati
Country: India
Dear Viewers, this is Meghna Bhagwati(Child Counsellor), wanted inform that the mail id has been changed to mb_3rdeyewisdom@yahoo.in So plese me on this new mail address.
Name: Meghna
Country: India
Dear Dees, You can contact Dr. Meghna Bhagwati. She is a Counsellor as well as Child Pstchologist in jaipur. She is really good and gentle Psychologist. She deals with every issues of child and helps in Counselling the Parents as well.Hope it will help you.You can Mail or Post your any type of Querry or Problems regarding your child she'll help you.She can be contacted at meghnabhagwati@yahoo.com.
Name: meghna
Country: India
hi
Name: Mina Dilip
Country: India
A very well-written article, indeed! As a practicing child psychologist, I have encountered this attitude among many parents. I fervently hope that this article reaches far and wide so as to change this kind of restrictive thinking among parents and that more and more children can reap the benefits of meeting a child psychologist.
Name: Alok Kumar
Country: India
I also contacted Dr. Dherendra Kumar for my son in Noida. He is gentle and caring. We benefited a lot from his work.
Name: Alok.Kumar
Country: India
Dear Dees, As you want a teen psychologist. You can contact Dr. Dherandra kumar, he is a Clinical and Child psychologist in Delhi. From my personal experience, as i consulted him for my children, he is really a good child psychologist. He deals with teen issues, also. Hope it will help you. He can be contacted at dr@psyindia.com
Name: Sumit
Country: India
hi jatinder/alka - Dr. Geetanjali Kalia (child psychologist) in Ludhiana can be reached at geetanjliz@gma il.com.
Name: Sangita.Dagia
Country: India
Hi, I am Clinical Psychologist based in ahmedabad, Besides consulting, associated with schools and infertility centre. For any guidance, do let me know Preferably thru mail
Name: Sangita.Dagia
Country: India
Hi, I am Clinical Psychologist based in ahmedabad, Besides consulting, associated with schools and infertility centre. For any guidance, do let me know Preferably thru mail
Name: lakshmi
Country: india
maybe u could sdd few experiences of childrens meeting with their psychologist
Name: tilashia
Country: usa
i hate this article because i couldn't even read it so i don't know what article yall talkin bout. anyway to start off with,i'm doing a report on 3 careers that we are interested in. so i decided to look up more about a child's psychologist. well there wasn't any information on it that i could find so now i don't really know what a child psychologist does. that all folks
Name: Hemal Gandhi
Country: india
great insight into why a parent must see a psychologist wen need persists,mention of a few psychologists name n numbers would help the estranged parents
Name: Amina
Country: india
i think that's an wonderful article.
Name: Reshma
Country: india
it is very good article.
Name: ann
Country: india
opened my eyes to my tenager's felings and views. i ahd forgotten that while discipling we ahve to consider their point of views as well.
Name: Isantosh sharma
Country: india
i want to meet child psycholigist
Name: Vaishu
Country: malaysia
i like this article very much and i am very interesting about it because i want to be child pschologist.i know those childrens feelings because i'm one of them. but now i'm fine and i'm very confident that i will be a child psychologist one day although i'm student now.



Back to Previous Page | More on Child Development Index
Bed-Wetting In Children Video