Essentials For Falling Hair -
by Editor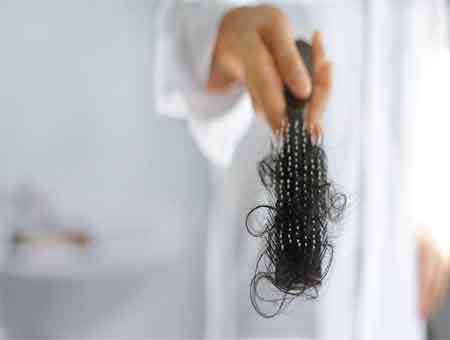 Does your hair fall often Arm yourself with these tools to combat hair fall.
Wide-toothed comb
Get yourself a wide-toothed comb. This is probably one of the most important yet underutilized of all hair tools. A wide-toothed comb helps you distribute conditioner evenly all over your hair while shampooing and conditioning. In addition, it also helps get rid of knots smoothly.

The best time to get rid of knots is during conditioning. Apply conditioner and run a wide toothed comb gently through your hair.

While untangling dry hair, do so in sections. Take one section at a time, and first, untangle the ends of your hair. Do so slowly, and don't pull unless you want your hair to fall out in clumps or break.

Don't wait for the last minute before detangling your hair. Every night, while sitting in front of the television, run a wide toothed comb gently through your hair, until you have untangled it completely. Do this every night, and you will notice that your hair remains free from tangles.
Leave-in conditioner
Dry hair tends to tangle easily, and, needless to say, causes it to break. Make sure your hair is never devoid of moisture by always keeping a bottle of leave-in conditioner handy. The next time you feel your hair is dry and rough to the touch, simply rub a dollop of leave-in conditioner between your palms, and apply it to your hair. Comb through with your wide toothed comb. Your hair will be instantly rejuvenated and moisturized. Gradually, the texture will also improve. This is a must if you blow dry your hair regularly, or if it is chemically treated. Such hair constantly craves moisture, so get yourself a bottle of leave-in conditioner.
Oil
Olive, almond and coconut oils are all excellent for the hair. While you could apply oil as an alternative to leave-in conditioner, oil tends to make your hair sticky, and you cannot style your hair well after applying oil. Your only alternative would then be to tie up your hair. For better results with oil, apply just a few drops immediately after washing your hair, when your hair is still dripping wet. Oil doesn't penetrate the strands as easily as leave-in conditioner does though. Nothing beats a hot oil massage followed by a steam treatment, as the steam helps the oil penetrate the hair strands, strengthening them and curtailing hair fall.
Egg
Egg is great for the hair - there are no two ways about it! True, it causes a tremendous stink in the bathroom, and your hair may let off an 'eggy' smell, but the results are instantaneous and worth it! Egg strengthens your hair almost immediately, and the egg yolk leaves your hair shining. Whip an egg with two tablespoons of olive oil and apply it to your hair. Wash off after half an hour. Make sure you wash off with cold water though, or the egg will start cooking in your hair, and would be harder to take off! Use a scented shampoo to counter the smell of egg in your hair, and follow up with a leave-in conditioner. Do this for a month, and you will be amazed by the change in your hair texture and the reduction in hair fall.
Name:
Parveen
City:
Saudi Arabia
Comments:
Please explain how to do a hot oil massage and steaming at home.
---
Name:
likitha
City:
Singapore
Comments:
Egg really works tremendously u also can try,,,,,,,,,,,,
---
Name:
kreena
City:
ahmedabad
Comments:
Parveen, heat up some oil and apply it to your scalp. Make sure it is not too hot. Ask someone, or yourself massage your scalp with your fingers and then dip a towel in boiling water. Remove the towel, squeeze the water out of it, and wrap it around your hair. These days u can also buy steamers in the market. they are like small flasks. you fill them with water and plug them in and they give out steam. you can then just move it all around your head to direct the steam on your hair. the oil gets so nicely absorbed by the hair.
---
Name:
Hema
City:
Dubai
Comments:
I am staying in Dubai since this october. For the last 2-3 weeks i am experiencing serious hair loss.Is it becoz of the water..NULLNULLHELP!!!
---
Name:
Annesta
City:
montserrat
Comments:
does this advice work only on Indian and straight hairNULL or can all hair types do itNULL
---
Name:
ASHOK
City:
Faridabad
Comments:
I AM 24 YEARS OLD. FROM LAST TWO YEARS I HAVE NOTICED THAT MY ARE FALLING IN VERY HUGE QUQNTITY. MY HAIRS BECOME TO THIN THAT THE INNER PORTION OF MY HEAD LOOKS
---
Name:
Rashmi
City:
mumbai
Comments:
your tips are excellent but can you please give me the names of some leave-in conditioner and how to use them.
---
Name:
Rashmi
City:
London
Comments:
I m having severe hair loss from last 7 to 8 months and i feel pain in my hairs when touched especially on forehead do u have any suggestions
---
Name:
raheela
City:
Hyderabad Pakistan
Comments:
good suggestion and guideance for new comerce
---
Name:
Antony Selvaraj
City:
Chennai
Comments:
Hair falls constantly, my age is 25-no dandruff, no water change, no stress, any other reason could there beNULL Please help !!!
---
Name:
Irene Charkes
City:
qUEENS
Comments:
my hair is falling so bad.I have dry scalp and the root of my hair is so hard. My hair coming out in big quantity every day. please help me before I become bald. Thank you
---
Name:
bannu
City:
LA
Comments:
Hi does any one know about the japanese hair straightening done in hyderabad .if yes please give me the info thanks in advance
---
Name:
Sabita Sewlall
City:
Mississauga
Comments:
Thanks a great lot for sharing these precious tips for the general public. They worth trying. Thanks
---
Name:
Mrs. Stokes
City:
Santa Rosa CA USA
Comments:
I've been researching for months on the internet for hair care tips. This is the BEST natural hair care advice out there! Thank you deeply.
---
Name:
Amie
City:
Newport Beach, CA
Comments:
This is the best advice one can give. Thanks so much for believing in the magic of good old fashion coconut oil.
---
Name:
raveena
City:
chennai
Comments:
sir does hair loss is due to masturbating as i do this for the past 15years from the age 15. i have lost my front hair.
---
Name:
pitchai
City:
kerala
Comments:
sir iam in great depression for i have had losing my good hair due to heredity, stress that r unavoidable. my question ho wto regain my hair.
---
Name:
sankar
City:
washington
Comments:
sir hair is my life, but iam losing them and had become thin.i even not yet married.i need my hair b4 marriage otherwise i will be collapsed and my life will be spoiled.plz save me
---
Name:
Hetal
City:
Canada
Comments:
i am 28 years old. i have severe hair losing problem since last five years. i have done all the madication that help to stop losing my hair but for some reason non of them gave any benifite or satisfaction. Please Help me.
---
Name:
PinkyJi
City:
Delhi
Comments:
Use mayo in your hair, with honey and a pinch of turmeric.It works wonders, believe me, I got married.Before, no one want to marriage me
---
More
DISCUSSION FORUMS ON
Hair Care
RE:Where I went to go Bald??
You are from which city? ... - Ram read >>

Where I went to go Bald??
Doston Mei Aik Shadi Shuda Aurat hn aur apne baal mundwana chati ho to plzz recommed me where i went to go bald??? ... - Shumaila Ahmed read >>

texturizing spray
Hello everyone,
I have medium volume hair but my hair type is very thin and silky. Due to which my hair doesn't hold curls well for long time. I heard that texturizing spray helps in solving the problem. Could you please suggest some good tex ... - Amulya Peru read >>

Texturizing spray for thin hair
Hello everyone,
I have medium volume hair but my hair type is very thin and silky. Due to which my hair doesn't hold curls for long hours. I have heard that texturizing spray helps to solve the above problem. Could someone please suggest the ... - Amulya Peru read >>

RE:Head shave
It's not a problem with this you will get beautiful hairs after that I'm having herbal hair oil for this ... - Ramkumar read >>

RE:Introduction
Welcome ... - Ramkumar read >>

RE:hair fall
I'm having home made herbal oil ... - Ramkumar read >>

RE:hair care
Using a hair shampoo on the kid can be quite scary, but using a tear-free baby shampoo has made my baby's bath routine smooth and tear-free. I got the Natural Baby Shampoo from the moms co and its soo good! ... - busywittymom read >>

Introduction
Hi all,
My name is Olivia and I'm new to this group ... - Olivia Benjamin read >>

RE:hair fall
Hi all we provide Hair Fall solutions. you can contact us. servicelevels21 - at - g - mail
Its cost also reasonable and we will keep guiding you. You will start getting results of our medicines (Ayurvedic only)within a month. ... - Ayurvedic Solutions read >>