Children and Travel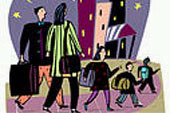 Travelling in India, especially with children in tow, is fraught with inconveniences due to lack of proper transit and lodging amenities, though things are better now, than it was, a decade ago. For those who can afford five-star style holidays, it is still not so much of a problem, but for others with lesser means it can be a discouraging prospect. So what do you do? Do you not travel at all till your child has reached a certain threshold age? Not quite! Children should be exposed to the travails and vicissitudes of travels and uncomfortable journeys; they are more resilient than you are, you'll discover. Only you need to plan your holiday well.

Planning a Holiday

Try not to make ambitious plans or itineraries. Plan your holiday well in advance. In India, getting train reservations or even resort bookings at the last minute is virtually impossible, especially during the peak season. So you need to plan your travel itinerary to the last detail beforehand. Where would you like to go, for how many days, where will you stay and what transports will you require reaching there, and thereafter? Consider all these questions and make arrangements before leaving home.

If you are going through travel agents and tour operators then you need to discuss the packages threadbare to cross check that all features suit you. Plan an itinerary such that you can fit in at most 4-5 places, which are preferably within a radius of 500 kms, if you are on a 12 - 15 day trip. This will ensure that you are travelling less, seeing more and resting more, too. Enquire about medical facilities beforehand, especially in places like water resorts or amusement parks. Some of them may be ill-equipped and you wouldn't want to be sorry, later.

Where to Stay

Booking decent resorts, motels or holiday-homes is of course, the ideal thing to do. But with kids, there is another formula you could approach. Try shacking up with some friends or friends' friends. This also has the advantage of exploring a new place as an insider, while being an outsider. If you, or someone you know, happen to know a forest officer, you can ask him to arrange for a stay and transport, and be his guest. This is more likely to work, because people posted in remote areas welcome company readily. Or, if you know some friends who own a country-home or a cottage in remote hills grab the opportunity, chances are there will be a caretaker who can look after all your needs.

What to Pack
Strike a balance between travelling light and taking into account your child's every requirement. Leave behind that book you have packed for your travel read, you'll have no time for it anyway. Scrounge on your needs but not on his. It will only help in making your experience more pleasant. Ensure the following things:

Remember a Few Things
Avoid shopping, if you can. Or else, divide your schedule in such a way that your partner takes the children to an amusement park or a treat while you get yourself chauffeured to the marketplace.



Avoid visiting museums. That is a surefire way to displease your child. If you must, take turns. Also, museums do not encourage bawling babies and babbling kids.


Visiting forts and monuments can tire and bore a child, so if you must make it a breeze.
People contact is very important for a child, unless, of course, yours is particularly shy. Befriend co-travellers. If they happen to have kids, then your kids get company, too; they will be less demanding and more amenable. That will make your holiday more pleasant, too. Make friends with the caretaker and his children. They may, perhaps, teach your child a trick or two - on how to climb a tree or catch a butterfly!

Children enjoy novel experiences. The very idea of living out of suitcases, one night in one place and the next in another, is appealing to them. They get to explore new living spaces and new neighbourhoods. Their senses are stimulated wildly, and that itself keeps them free from boredom.


Bon Voyage!