WAYS TO HELP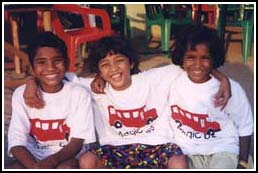 Though a significant part of the work is done by volunteers and most of our premises are generously donated by institutions, we have other substantial and continuing expenses: the hiring of good professional teachers to maintain a high quality of education: the cost of creative and relevant educational material and field trips: and sponsorship of formal education.
It is impossible for us to achieve our mission without your help.

Ways to Help:
One can get involved in our activities in any of the following ways:
1. Be an Akanksha volunteer: Volunteers are students, housewives, or professionals. Our volunteers add energy, creativity and love to our centres, or contribute their skills to administering our projects, and they gain meaningful experiences to their own lives.
2. Help find a space for an Akanksha centre: We use under-utilized space in colleges, schools and office premises. We are in urgent need of space for more centres in Central and South Mumbai.

Help Akanksha financially by:
1. Sponsoring a school for Rs.2.5 lakhs per year: Corporate donors, trusts, and individuals already sponsor nine of our nineteen centres.
2. Corpus Donations: We endeavor to build a Corpus of 5 crores in order to become a financially independent organisation. Corpus donations of any amount would be highly appreciated.
3. Sponsor a child for Rs.1500 per year: This scheme covers the cost of education of one Akanksha child for one year.
4. General Donations
5. Sponsoring a vocational project: We also operate vocational projects for our children such as sewing, gardening, computer applications, and art. These classes provide the children skills in a vocation that will help them to earn a livelihood and be productive citizens.
6. Sponsoring a Teacher: For Rs.30,000 a year, you can sponsor a Head Teacher at Akanksha, or for Rs.!8,000 an Assistant Teacher.

Donations can also be made in the UK and USA :
UK : KINOE- Kids In Need Of Education,
Registered Charity number ; 1058290
8 Quick Street, London N1 8HL.
USA: The Akanksha Fund Inc.
C/o Sarah Roberts,
230 E. 50th St., Apt.4B
New York, NY 10022.
If you require any further information, please phone us on 204 0354 or e-mail us at akankshafoundation@vsnl.com or visit us at www.akanksha.org