Foods That Support Immunity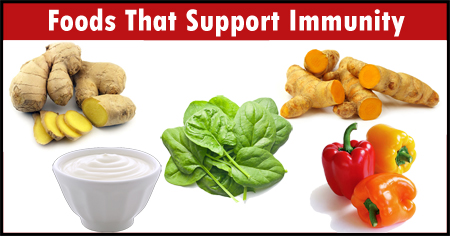 Immunity is the biggest need of the body. It creates the base for a healthy living for adults as well as children. Our body has the self-built immunity mechanism that protects the body against several diseases. At times the immunity gets affected due to the attack of certain microorganisms on our body. Medicines help in such cases to fight against them. Apart from medicines, there are certain food items that support the immunity process of the body to the fullest.
Importance of Foods That Support Immunity
"Prevention is better than cure"- this is a quite famous saying. Immunity supporting foods play the same active role in our day to day life. Being laden with immunity boosting nutrients, these foods not only support but also boost the immunity process in children.
If these are made a major component of a child's daily diet, these food items can supply the major immunity building nutrients to their body, along with the supporting elements needed for optimised growth. Thus, they play a vital role in building the immunity system of children.
List of Foods That Support Immunity
As these foods create the most robust method to prevent diseases in children, their selection should be done with great care.
Here, we've listed some traditional and highly reliable foods for a natural approach towards boosting immunity:-
1. Bell Peppers
Bell peppers contain double the quantity of vitamin C that's found in citrus fruits. They are also a highly rich source of beta-carotene that helps in maintaining healthy skin and eyes. Various studies and research has confirmed the immune boosting effect of bell peppers as well.
2. Yogurt
Good to taste, yogurt acts as the perfect immunity builder with stacks of disease resisting elements and well enriched with vitamin D. If your child likes the taste of yogurt, you've won half the battle when it comes to boosting their body's immunity.
3. Spinach
Loaded with antioxidants, vitamin C and beta-carotene, spinach becomes a perfect immunity boon for your child's immune system. It makes it one of the most recommended choices among other leafy green vegetables to boost immunity.
4. Ginger
Ginger is a great reservoir of vitamin C and thus helps prevent and control colds and other related infections even before they set in. The heat effect of ginger, induced due to the Gingerol also brings about a strong soothing effect on the body
5. Turmeric
Being a time tested remedy for several ailments, this immunity boosting food is recommended by oldies as well – we're sure your grandma recommended 'haldi milk' every time you got a cold. Being an active ingredient in most Indian curries and dishes, turmeric is fairly easy to include in your child's diet. Even though it has a slightly bitter taste, it works great for the body's immunity and reduces the chance of contracting ailments like cough, cold and fever in adults as well as children.
Benefits of Supplementing Immunity Foods with PediaSure
There are multiple benefits of supplementing the immunity boosting foods with health drinks for higher immunity. But one needs to be careful while selecting a health drink as not any drink is recommended for your child's nutrition, growth and immunity.
The following are the benefits of supplementing immunity foods with PediaSure:-
Being clinically proven, it contains 37 nutrients that help support height and weight gain, along with immunity and brain development.


It also helps in reducing any chances of infection by approximately 50% and growth by 50% too.


5 scoops of PediaSure contains nutrients like- folic acid, carbohydrates, proteins, calcium, phosphorous, iron, vitamin c, zinc, choline; all essential for balanced nutrition.


PediaSure is clinically proven and reliable growth enhancing drink for kids that's recommended by paediatricians.
It's important to realise that only foods may not be able to fulfil all the nutritional requirements to boost the immunity of your child. So, make sure that you club it with PediaSure to be sure that your child grows healthy and strong.
Now that you know what you need to include in your child's diet to build his or her immunity. Get set and go!