ActivKids Immuno Boosters - Building Immunity Has Never Been This Easy
I am a mother of two active girls of age 7 and 4 years. Just like any other mother, I also want my kids to be happy and healthy but young kids tend to fall sick quite often as their immune system is still developing.
It is not possible to build their immunity only by providing fruits and vegetables. When kids do not get proper nutrients through their diet, it further affects their
immunity.
It is also difficult to find a product which a kid agrees to eat without creating a fuss. But then I came across Cipla's ActivKids Immuno Boosters while browsing the internet. The supplement comes in a very tasty choco-bite form. When I brought the pack home, even I couldn't resist tasting one.
Ever since I have started giving these choco-bites to my kids, they have become more healthy and happy. They are more regular to school. Their stamina has increased. They have started performing better in after-school activities. I highly recommend it for mothers who are looking for a healthy yet yummy supplement for their kids.
Normally, when it comes to nutritional supplements, parents hesitate to give such things to their kids. But with
ActivKids Immuno Boosters
, being from the house of Cipla – an 80-year-old pharmaceutical company in India and a leader in pediatric products, you don't have to worry at all. I have been giving it to my kids every day since the last 2 months. It is a unique nutritional supplement that helps kids receive up to 100% essential immunity nutrients recommended for growing kids.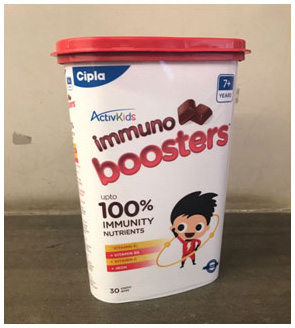 Let us take a look at the health benefits of giving ActivKids Immuno Boosters to our kids:
It is a nutritional supplement that helps kids receive 100% RDA (Recommended Dietary Allowance) for boosting their overall immunity
It is loaded with key immunity nutrients like Vitamin A, Vitamin B9, Vitamin C and Iron and 7 other nutrients
The key nutrient content helps protect kids from common childhood illnesses and nutritional deficiencies
It strengthenskids to keep infections at bay
It helps in the formation of blood and boosts the defence system of kids
It helps prevent body cells from damage and repairs the damaged cells
Cipla has developed this nutritional supplement for kids after conducting extensive research on kids' health and immunity. They found that Indian kids are not getting even 50% RDA5 of vital immunity nutrients. ActivKids Immuno Boosters has been developed by scientists and experienced pediatricians keeping in mind the Indian diet and environmental conditions
Immunity in kids is also affected due to a range of factors like pollution, lack of physical activities and frequent infections. Just one choco-bite of Immuno Boosters everyday will ensure that your kid remains healthy and happy. So, if you are looking for a tasty, fuss free solution for strengthening the immunity of your kid then look no further. A healthy kid is able to perform better. Give your kids good health; give them Cipla's ActivKids Immuno Boosters. Do try this unique product and share your experience with us.
To know more about immunity kindly click on this
link
. Where To Buy: ActivKids Immuno Boosters can be purchased from
Amazon.in
Price: Rs 299
Pack Size: 30 choco-bites
Age Group: 4-6 years and 7+ years
To learn more about ActivKids Immuno Booosters, please watch this video where renowned clinical nutritionist – Dr. Deepa Agrawal explains the importance of ActivKids Immuno Boosters for your kid's immunity.