A Mother is Born
- Padmaja Kesnur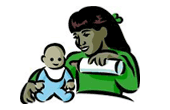 Motherhood can be a very special experience, if only you have the time to realize it. I did and I am thankful for my husband's timely posting to the Nilgiris, the salubrious mountain ranges of South India, when I was just three months into my pregnancy. For a working woman, to follow in her husband's professional footsteps to the back of the beyond without career opportunities for herself, was a depressing prospect. But, Wellington (a hill-station near Ooty) made it so special that the sabbatical was well worth it. From a committed career woman to a mother, it has been a long journey.
My apprehensions about being tamed to domesticity were soon laid to rest, as I realized that the stint in Wellington was to be a well-deserved break that would soften the plunge into another vocation, that of motherhood. I was in the family way and ready to pamper myself, to indulge in all the good things in life.
Wellington slowly grew on me just as my son was covering milestones within me. Much as I would have liked, sports like tennis and horse riding were out, walking was the only outdoor activity open to me and I had decided to make the most of it. Into my fifth month, an opportunity for a 10-km trek, beckoned. Smelling the eucalyptus air, I dreamt of another time when I would attempt more such treks albeit with a different backpack!
Female Bonding
I took to walking with renewed passion; that would be the best way to discover my naturally well-endowed neighbourhood. At the stroke of five I would set out alone, though sometimes my husband accompanied me. The destination was Barracks, where I would reward myself with a farm-fresh, tender coconut. It had become some sort of a ritual. I enjoyed walking alone as it gave me the space to observe and to ruminate - to stop and smell the roses, so to speak. But, often the spell was broken when other wives on similar jaunts tagged along, not because they knew me, but because they initiated a conversation with the opener: "Oh, you're expecting."
Everyone has heard of 'male bonding', but Wellington gave me a new vocabulary in 'female bonding'. I discovered that pregnancy and impending motherhood brings up feelings of sorority among women and forges ties among them like nothing else does. "Your first child", is the little one kicking yet", "are you taking enough fruits and greens?" strangers greeted excitedly. A special bond endeared them to you. The most commonplace and natural thing in the world had assumed special overtones.

Cravings
I just had to confide in a friend one day, that I sorely missed the Bombaiya chaat (spicy Indian snacks) and the very next day a 'chaat' session was arranged! When a friend who attended Selvaraj's baking classes learnt of my yearning for cakes, she would try them on me (not that I minded at all)! Friends indulged my cravings for food, which is so much a part and parcel of pregnancy. For someone who loves food but hates cooking, it was just what the doctor ordered!

A Beautiful Retreat
A place that did offer solitude was the well-stocked DSSC library. In the company of Gerald Durrell's and R.K.Narayan's, I would wonder what "Kadambari" or "Siddhant" would grow up to be – a naturalist, a travel-writer or a military officer like the father! Another favourite retreat was the Leebon Nursery, in the neighbourhood. Ms Lawrence's green fingers had created a veritable paradise with blooms of begonia, balsams, birds of paradise and such exotic species. The lady would always inquire after my health and with every passing visit give some sprigs or saplings gratis, – sometimes it was the Japanese rose and at other, guavas from her garden. Much later, when I was to visit her again with my son, she promptly gifted a baby pot of pink primrose, especially for him. That gesture was so touching; now the pot sits on the windowsill of my home in Mumbai and I feel that a part of Wellington's riches are with me.

Informal Pregnancy Club
I had often heard that Wellington was a 'fertile ground' and the rush of would-be mothers, most of them the second time round, at the Gynaecology OPD at the Military Hospital seemed to prove the same. Being the rare 'primagravida', I was the focus of all the generous good advice from the veterans of the informal pregnancy club. Sitting in the waiting room, we would exchange notes, and terms like 'low-lying placenta', fetal heart beat', 'EDD' and 'episiotomy' would fly thick and fast. Dr Spock figured in many our discussions, even as hopes were hinged on Dr Pal. My friends filled me on what to expect on the D-day. No book would have prepared me the way the collective experience and wishes of my peer group did.
If ever there was a congenial environment for birthing, it was the maternity ward of the Wellington MH. Flaming poinsettias drenched in the sudden downpour, the valley down below with the burst of eucalyptus trees and the roseate church building in the distance were a mesmerizing idyll that echoed the pristine beauty I felt within.

A New World Beckons
Siddhant arrived on a drizzly November day. Just within 15 days we were invited to our very first birthday party in the neighbourhood, a circuit hitherto out of bounds for us! A new world of boisterous kids and return gifts stared at us. That, if not anything else, brought home the fact of what lay ahead of us.
Not to be pinned down for too long, I once again stepped out for my walks with the little one in tow in his stroller. Just as the ladies zoomed past elegantly in their riding breeches towards the equitation lines, I would mend my way in the circle quarters taking in a bit of sun and indulging in bird-watching. Spotting the pied bushcats, yellow wagtails, grey tits and rosefinch in the tea bushes, my mind would wander again. Will Siddhant be a naturalist like Salim Ali or would he sing paeans to nature, a la Rudyard Kipling, with Wellington as his muse?

The imprint of Wellington – the sights, the sounds and the people – will never fade from my mind because my son, Siddhant was born here… and so was a mother!
To add your views on this article or read other comments, click here.

Back to Previous Page More on Newborn Care Index