Benefits of Turmeric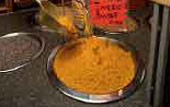 While many of us are aware of the numerous benefits of this deep, exotic yellow spice, few incorporate turmeric in our daily use, other than sprinkling a little of it in our daal and subzi. Turmeric, a member of the ginger family, has been used for healing by Ayurvedic means, since time immemorial. Turmeric has anti-inflammatory properties, and is an excellent antiseptic. In addition, it is great for the skin. So before investing in an expensive beauty product, take a look in your kitchen.
The turmeric you get in packets is not the pure form, which is why it is best that you try and find someone who supplies pure turmeric powder, or use the root and make your own paste.
Here are just a few of the various benefits of turmeric:
Reduces Pigmentation
Plagued with pigmentation? Turmeric can help even out your skin tone and colour. Simply apply a little turmeric mixed with cucumber juice or lemon to the affected area. Leave on for fifteen minutes or more, and wash off. Do this everyday, and gradually you will notice your skin colour returning to normal.

Strengthens Bones
Drink a quarter glass turmeric juice every night, with milk. The best way to have this is to take a ½ inch piece of turmeric and boil it with half a glass of milk. Once the milk has turned yellow, remove from fire, let it cool slightly, and sip this. This will cure numerous ailments. Women especially should drink this every night, as it strengthens bones and reduces the risk of developing osteoporosis.

Softens the Body
Turmeric is a wonderful body scrub, which is why Indian brides apply a turmeric and gram flour (besan) mix to their entire body, the morning of the wedding. It leaves your skin soft, smooth and glowing. Of course, a single application will not really make that much of a difference. Do this regularly, and watch your skin change for the better - much better.

Makes the Skin Supple
If you are planning a pregnancy, apply a mixture of turmeric and malai or turmeric and curd to your stomach and waist before going for a bath. Leave it on for fifteen minutes, and wash off. If desired, you could even apply this mixture after bathing. After you have washed off the soap, apply the malai and haldi mixture, leave it on for five minutes, and wash off only with water. Gently, wipe your stomach with the towel. The sooner you start this routine, the more supple and elastic your skin will become, and after giving birth, you will not be left with unsightly stretch marks.

Inhibits Cell Damage
Turmeric is an excellent anti-oxidant, which essentially means that it stabilizes unstable oxygen molecules. These are known as free radicals, and are what cause damage to cells, leading to ageing and various other diseases such as cancer.

Fights Diarrhoea
Turmeric fights the bacteria that causes diarrhoea, so the next time your stomach starts 'running', reach for some haldi. German health authorities have officially declared turmeric herbal tea to be a cure for loose stools.

All around the world you can now avail of turmeric in the form of teas, capsules, tinctures, lotions, ointments and powder. However, here, you have access to turmeric in its purest form, so make the most use of it.

To add your views on this article or read other comments, click here.
Back to Previous Page More on Baby's Diet Index