Confidence Building Tips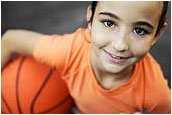 Read on for 4 great ways to make your child a more confident and self-assured person.

Sports

Encourage your child to take up a sport from a very young age. Let your child select what sport she wants to take up - this way she will be more regular with the sport. Often when children are young, they tend to take up things and give them up halfway. This is because a child is happy enough at home, surrounded by family. So take it upon yourself, if you have the time, to accompany your child to her sports coaching class. If your child is learning a sport at a club, you could go with her to the club, and while she plays her sport, you could do your own thing. Better yet, take up the sport with her, so you could make going to the sports club a family outing. Remember, you need to do this only initially. Once your child gets the hang of a sport and starts becoming good, her interest in the sport will increase by itself. Having a skill like playing a particular sport, and being good at it, will give your child tremendous confidence.

Public speaking

Enroll your child in public speaking classes from a young age itself. Make sure she attends regularly, and keep re-enrolling her so that speaking in public becomes almost second nature to her. Encourage her to participate in debate competitions at school, and speak up regularly in class. If your child is shy, speak to her teacher and request her to call on your child more regularly to answer questions in class. Also, if your child plays a sport, she can be a part of the team in her school if possible. This will encourage her to be more of a participant and be more involved with school activities.

Drama class

Getting your child to join a drama class is a good idea. Performing in front of an audience is sure to give any child a high, and a confidence boost. It doesn't matter if your child starts out by playing the part of trees in the play! Gradually, as your child continues to be regular with his classes, he is sure to get bigger and better roles, and as his roles grow, so will his confidence. There are numerous drama classes for children, and most schools put up plays performed by students annually. If your child has a flair for drama, he can participate in the plays in school. This will lead to greater recognition in school. A child that participates in numerous school activities is generally a confident child, and participation increases recognition and popularity, which brings about more confidence.

Pay attention

One of the most important things you as a parent can do for your child is to pay attention to him when he talks. If he finds that your attention is drifting, he will be able to make out almost immediately, and will clamp up. This will lead to feelings of inadequacy. Pay attention to your child when he is talking, listen to him, and show an interest in his school activities. You may be at home all the time with your child, but that alone is not enough until you actually sit with him and have heart to heart discussions with him. Question him on his day, find out what is going on with his friends, and support and encourage him at every step. If you disagree with something he says, feel free to voice your opinion. After all, being involved is more important than agreeing with everything he says.

To add your views on this article or read others comments Click Here

Back to Previous Page More on Confident Child Index