Building Bonds
- Contributed by Madhumita Gupta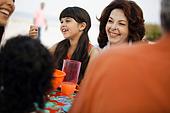 Weekdays are busy and rushed, and weekends are often spent with friends. "Family time? What's that?" Madhumita Gupta shows us how we can strengthen family ties.

The XIV Dalai Lama has very succinctly stated the paradox of our age - "We have more ways to communicate but less communication, steep profits but shallow relationships." With the current stress on individualism and our righteous demand for 'personal space' we are creating chasms in our relationships and hovering distressingly close to dysfunctional families.

But before you start packing for a long guilt trip, understand that the present lifestyle of upwardly mobile families takes a large part of the blame.

We give more and more of our time and ourselves to excel at work, to shine at social events and to keep tabs on the latest intrigues in those families in the K-serials (admit it folks, someone must be keeping those TRPs at an all time high!) and well, a day only has 24 hours! And so it's our own families that keep getting taken for granted.

Ironic, isn't it, that we do everything for our families, but make the effort to keep it close knit? Here are some ways to help you bond with your family.
Fix Family Time

It is about finding time, rather than an excuse. Fix a time for the entire family to be together everyday. It's all very well to speak about quality time, but do remember that quantity is not all that immaterial! During this time unhook the phone, switch off the cell and the TV, hang a 'Do not disturb' placard on the door if you have to! But let this time be sacred. The world can do without you for a while!

Plan Fun

How long has it been since your entire family played something together? Cards and indoor games may have been nudged slightly into a corner by their electronic cousins (which promote isolation by drawing one away from people), but they are still around. So, what are you waiting for?
Nothing like a game to get things rocking!

Listen and Talk

Many of us pretend to be listening and sound off appropriate responses although we may really be thinking about the next office crisis. The result - a full stop to communication because even a child can guess when attention isn't being paid. So, listen with your ears and heart. And when you talk, involve others. Instead of asking closed question that elicit simple 'yes' and 'no' answers, ask open questions. And do refrain from sermonizing at all times.

Get Out

There's nothing like a break to break the inevitable tedium of routine. Large group outings are fun, but do try and plan something which involves just the family. And travel light in all ways. Leave the excess baggage of deadlines, backlogs and past resentments home!

Be there

Always, for everyone. That's one great way to avoid a number of regrets beginning with 'If only I had been there…' Here's a short list of fun things you can do together as a family.

Play together, indoor or outdoor games
Read together
Cuddle up on that couch and watch family movies together
Have at least one meal together every day
Go for a swim
Go for impromptu picnics
Travel together
Go for drives and stop for ice cream on the roadside

Beware of these 'together time' burglars-

Telephone
Work talk
Television
Computer, computer games

To add your views on this article or read other comments, click here.

Back to Previous Page More on Raising Children Index