Do You Hear What I Hear?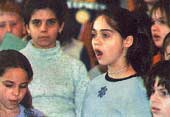 Music is more than a universal language. It is a magical language, and people of all ages from around the globe appreciate and respond to this magic. Switch on a tune with a beat, and watch your spouse and your five-month old snap to attention.
Don't begin by enrolling your child in classical music, though many parents feel this is the right thing to do. Your child wants to enjoy singing, so don't force something that he will learn to naturally appreciate when the time - and age - is right. 12-year-old Radha would lock herself in the bathroom every time her music master came home and would only come out after being severely threatened by her mother. Its not that she hated singing. "I love to sing, but the songs he teaches me are so boring. I keep yawning throughout the lesson. Why doesn't he teach me songs from movies?"
Not surprisingly, most parents would rather not have their children learning songs with lyrics like "You are my chicken fry, you are my fish fry." There are however many other songs from movies that your child would love to learn, and that have civil and even beautiful lyrics. Sit down with the music master and together you could formulate a list of songs you feel are appropriate for your child. Gradually, you could introduce your child to classical music.
Though everybody loves music, few can play an instrument. Encourage your child to learn how to play an instrument. It could be anything from the tabla to the santoor to the piano. It is a skill he will thank you for later on in life.
In addition to skills directly associated with music such as a good ear, an ability to sing well, an ability to sing in tune and increased lungpower, music also helps inculcate:

Discipline
Music inculcates discipline in a child. The very fact that your child is sitting in one place and concentrating on a particular activity is a discipline in itself. Your child may not necessarily like the binding that a music lesson calls for, especially if he feels as though he has no say in the matter. You could make it easier by giving your child a range of timings and days of the week, and let him pick a particular time slot that suits him. This will help make him a little more cooperative.

Confidence
Don't we all glow with pride when someone tells us that we sing well? The ability to sing well or to play an instrument will give your child a confidence and a talent that will stay with him throughout his life. Every child should know what it feels like to be up on stage and hear the audience applauding them for a good performance.

Inner Peace
Your child needn't turn out to be a professional singer, but even if those music classes leave him with a good ear and with an appreciation for good music, it would have been well worth it. Who needs to meditate? All you need is a good Ravi Shankar CD, a love for classical music, and you've achieved Nirvana. When you teach your child music, you teach him more than a skill. You are providing him with a lifelong companion.

To add your views on this article or read others comments Click Here
Back to Previous Page More on Intelligent Child Index