Celebrate Chirstmas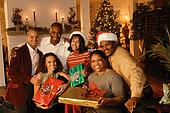 Get into the spirit of Christmas with your kids. You don't have to be a Christian to celebrate the festival of love and giving. Here's how they can have a great time.

People often say that no one enjoys Christmas as much as children do, and with good reason. They are all too often caught up in the wonderful world of Santa Clause and presents - and which child doesn't enjoy receiving presents?

Carols

Take your child to the church to listne to Christmas carols. It doesn't matter if you are a Christian or not - what matters is that your child gets into the sprit of celebration, and gets an insight into another culture. Your child is also sure to enjoy herself tremendously, and will come back home having perhaps learnt a few Christmas carols herself! And wouldn't you rather she hum these songs every now and again, instead of the same tunes from the latest Hindi movies?

Dinner

Christmas is a festival often celebrated with family. In addition, we all have a holiday on this holy day. Try and make the most of this holiday by inviting family and close friends over to your house on dinner, or by simply making it an unforgettable event for your children by getting home a Christmas tree, and spending the evening decorating it.

Decorations

Remember, your children will in all likelihood have a couple of weeks off from school to celebrate the festival. Go shopping with them for a small Christmas tree and some decorations. They could then have fun decorating the tree.

Cards

Encourage creativity by asking them to draw their own Christmas cards. This should keep them gainfully occupied for a fair amount of time. You could then send out these cards to close friends and family.

Presents

Give your child a small amount of money, and let them shop for Christmas presents for their close friends. You could also speak to the parents of these friends, and let them know what you are planning to do. Fix a small budget amongst yourselves. You could have these friends over for dinner on Christmas eve, and place all presents around the Christmas tree. They could exchange the presents at midnight, or earlier if the friends need to leave. Make it a point not to get caught up in this shopping. Leave the choice entirely to your children. This will not only incuclate values of generosity and giving, but also of a sense of responsibility. They will try and find out from their friends what they like, and will accordingly take time out to purchase something for them, making sure they stick to the budget.

Hindus in India exchage presents during Diwali. These presents mainly take the form of sweets, and children are not invovled. Their involement in Diwali is limited to the extent of burning firecrackers with their friends, and participating in a puja. Christmas is a good time to get your children involved in the giving and taking of presents. Malls will also be well lit up and in all likelihood, your kids are sure to come across a few Santa Clauses. If they were actually involved in the process of Christmas shopping rather than just looking in from an outsider's point of view, they will no doubt enjoy themselves a lot more.
To add your views on this article or read others comments Click Here


Email this Article to a Friend