How Love and Hugs Change a Child's Brain?
When a child is born, the bond between the husband and the wife moves a step forward with their journey into parenthood. They become more mature and have many responsibilities to fulfil for the newborn. A strong understanding of the child's development is essential at this stage as this leads to the growth of the child's brain. At this stage, the brain of the child is like soft clay, and it is entirely in the hands of the parents.
We want our child to be emotionally stable, but do not realise what needs to be done for a holistic development of their brain.
Love and hugs have the magical power which no toy can ever provide. To be more specific, a mother's hug and touch is essential to provide positive stimulation to a child's brain from the time he or she is born. Keeping in mind the importance of a mother's touch, love and the 'Power of Hugs', Huggies – a brand which is most trusted and loved by mums, is here with its new wonder – 'The Wonder Pants' - with a hug-fit design. A mother's hug inspires the new Huggies Wonder Pants.
Why Use Huggies Wonder Pants?
Care and hygiene go hand-in-hand, so it is necessary to ensure that the second thing that touches the baby's skin is as delicate and pure as a mother's touch and love. So, the new Huggies Wonder Pants are designed with special care to keep the baby's skin clean and healthy. If you haven't yet, then buy a pack of Huggies Wonder Pants for your little wonder today, and give your child the power of your hug.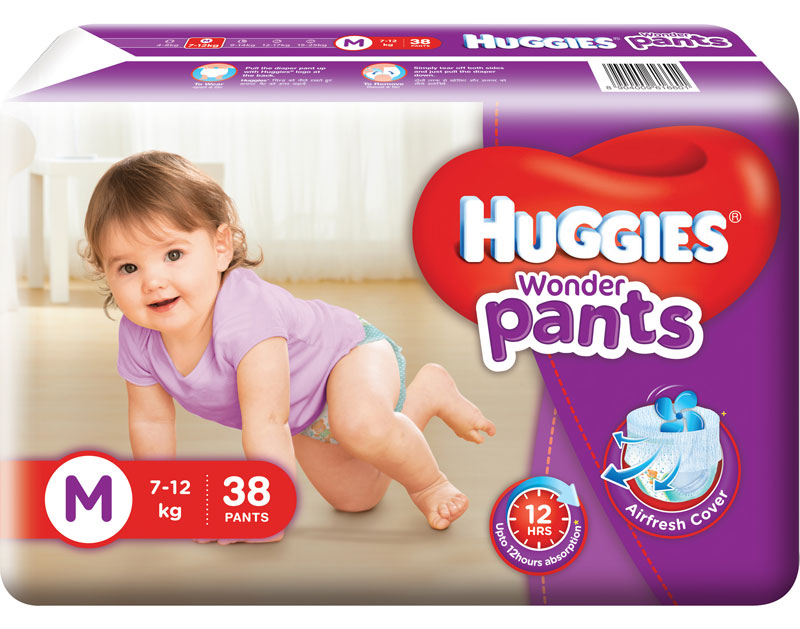 Now let us take a look at the ways in which touch, love and hugs are vital for the healthy growth and development of your child and his or her brain.
Boosts Baby's Immunity
Many medical studies have proved that hugs are crucial for the healthy growth and development of a baby. When children are hugged, many good hormones are released and it helps them regulate their body's temperature. You may have noticed in some cases that when you lift your crying baby and hug him or her with love, he or she stops crying. Hugging not only helps to reduce stress in children but also boosts their immune system, stabilises their heart rate and improves the oxygen levels, thereby providing active stimulation to the brain.
The Release of Serotonin
Serotonin is also known as the "Happy Hormone". Researchers have said that whenever any form of physical touch occurs between a child and the parents, this happy hormone is released in their brain. It is said that the proper release of Serotonin is extremely vital for a child as it helps to strengthen the bond between the child and the parent. This is the reason why there is a better relationship between a parent and a child when the parent hugs the child.
Reduces the Level of Stress in the Child
A stress-free environment is imperative for the healthy development of a child's brain. When you hug your child, their brain's Vagus nerves get activated as the pressure receptors under their skin get stimulated. The Vagus nerve helps in slowing down the heart and lowering the levels of pressure. It results in bringing about a feeling of relaxation throughout the body. The stress hormones, also known as Cortisol, are curbed by such tender hugs. This leads to more things like better digestion, improved absorption of food, and increase in serotonin levels.
Assurance and Communication of Love
When you love your child, it reaffirmsto them that you are never going to leave. They get an automatic assurance that this love and care will always be there for them. When the child is stressed or feeling down, a warm hug will make them feel much more comfortable. They get support and strength, both mentally and physically. Hug them without any reason before they go to sleep, just to assure them of your presence.
Helps to Cheer-up Children
Parents are always the hero for their child, and they know their parents can go to any extent to protect them from obstacles. They will be there beside them no matter what happens. When you hug them, the child automatically feels happy. This is a universal feeling for all children. The embrace of their parents gives them all the strength to fight with the world. No matter how upset or worried a child gets, a simple hug can work like a miracle for their minds.
Sense of Security and Safety in Children
Hugging is one of the ways to show that you love and care for your child. It helps develop a sense of security among children. When you hug your child, he or she feels a unique warmth and is assured that he or she is well protected in your arms. By hugging, you develop a feeling for a child that he or she is in the protective shield of your arms which will be with him or her forever. We all know that we love our children, and will do whatever we think is necessary for them. But we often fail to realise that material pleasure is not everything that helps them grow. Physical touch plays as pivotal a role as mental support in their lives. So, move away from just making children happy with worldly pleasures, and let them grow up to be happy and intelligent people, with your love and affection by their side.