ISP Watch
Chip Magazine, Oct 1999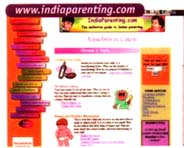 Can't find an appropriate name for the latest addition to the family? Visit www.indiaparenting.com, the definitive guide for parents (and parents-to-be). It offers information on women's health, pregnancy, new-born care, child development and doctor support. Here is where you can find a long list of names for babies from Indian mythology, for boys and girls.
If you are superstitious, numerology comes to your assistance in selecting a 'lucky' name for the baby.