COVER STORY
Business World, 6 Sep 1999
By Prosenjit Datta & Vidya Viswanathan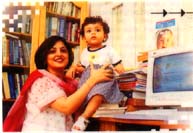 There is a business on the Net for you.
You just have to come up with the right idea - dozens of others have, and succeeded.
Nirali Sanghi, a former Boston Consulting Group consultant, realized that there was no site that offered advice to expectant mothers. Now she is trying to build a business on the Net by creating a specialized portal for young parents.