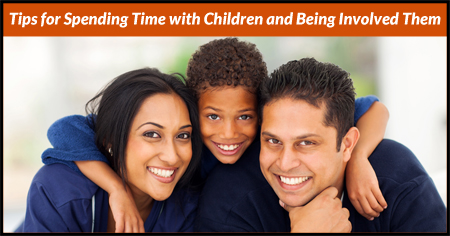 Parental involvement is extremely important for well-balanced growth and development of children. Read on to find tips for spending time with children and being involved with them.
In today's world, parents are quite busy with many things in their life and hence they do not find time to spend with the family and children. Few parents think that spending just one hour with the children is more than enough in a day. Especially, this one hour is totally focused on usual activities like watching TV, going out for movies and lunch or dinner party etc.It is necessary for the parents to know that spending valuable time with children is more than just spending an hour. When a child is not getting time to share her thoughts or
feelings
, she will easily and constantly wonder if her actions are right or wrong. Such things create trouble for the children when they have to take decisions all alone.
1. Time to Build-Up Faith
If the parents are very religious and particular about the faith, it is good to take some time, sit and explain the god's word with the children. This will enable the children to understand what they are expected to do in terms of worshipping and allowed to acquire all the good deeds. All time preaching will make them get diverted and hence, it is good to have weekly practiced or alternate days' routine.
2. Let Your Child Relax
Give primary priorities for
spending time with children
rather sitting in office for the whole time. Once the child is back from school or any classes allocate few hours to let your child relax and engage in fun activities like playing indoor and outdoor games, drawing, painting, reading story books etc. This will help them get refreshed and get rid of the wear and tear caused due to the daily routine.
3. Plan for Goals
If the child is very specific about the studies and career, then it is a very good opportunity for parents to discuss on the goals. Find time to plan for the learning schedule and motivate them with all possible ways to get success in career and life. By this way, children can get some ideas and guidelines to start their goal settings.
4. Avoid Unnecessary Thoughts
When a child is not much monitored by the parents and if parents are permitting the children to behave on their own, it can lead to negative consequences. They may think that they decide whatever they perform is right and no one has the right to judge them even if they are in a wrong path. To avoid these unnecessary thoughts, one-on-one discussion is required between the children and parents.
5. Know the Subject and Learning
Just leaving the kids in school is not the end of the story for parents, whereas child should be observed in their learning and the subjects in which they are educated in school. Spend quality time to check out their time-table and explain what should be done to complete their homework in a fruitful manner. Do not force or push them into a stressful situation. Understand the subjects and studying concepts of the kids to enhance their learning skills.Apart from all the above discussed points, it is good if the children are engaged in tasks like cooking, shopping, house cleaning, gardening and so on. Try involving the children in solving puzzles, drawings, paintings, and other extracurricular activities, where parent's participation is very important. Though the kids are comfortable in
playing
with their
friends
and neighbours, home environment is vital to make them more relaxed and happy. Focus more on personal commitments instead of wasting time. Make hay while the sun shines! Utilize the valuable time with valuable people as later regretting will not help anyone.
What is the importance of spending time with children? How to be involved in the life of children? What are disadvantages of not being involved with children? Discuss here.