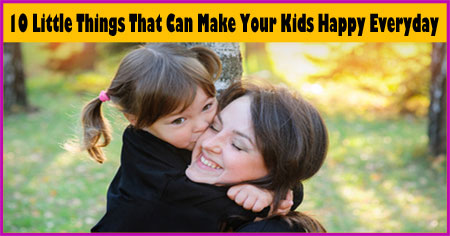 Doing little things for kids can add to their happiness and make their day. Read on to learn about the 10 little things that can make your kids happy every day.

Parenthood is a tedious and tricky job – you may do everything for your kids but may not be able to build that connection with them if you do not do it right. In this busy life, you may forget to connect with your kids, which becomes a trouble when they reach their teenage. So make sure you do something to
make them feel happy
everyday and stay connected always. Here are 10 little things that can make them feel special easily.

1. Be Expressive Physically
Kids just like any other human being always thrive on love and warmth. A mere kiss and
hug
will increase the self-esteem of your kids and it is a good feeling that will reside in their heart throughout the day.

2. Give Them Surprise Notes
You can always stick funny and affectionate notes on the fridge or their study desk or anywhere that are accessible to your kids. You can also send "I love you" note along with their lunch box. These make them super happy even when you are not around.

3. Never Forget to Smile
Wear a smile always on your face when you see your kids approaching you. Not only this makes them feel happy, but also puts them at ease. Your smile also confirms that their presence is valued.
4. Spend Quality Time with Your Kids
Make a schedule when you would
give your whole time to your kids
. Keep all your smart phones and other to-do's aside during that schedule. Talk to your kids, know how they feel, discuss anything they want to talk about – your pure presence will surely make them happy.

5. Set Up a Special Song
Make up a special song based on a melody you and your kids love, only for you and your kids. When you hum the song, your kids would know you are trying to say that you love them through that song. This will instantly make them happy.

6. Set Up Special Code
You can also create a special code to show that you love your kids. There is no harm in telling directly, but it is fun to do some actions, for example maybe putting your fingers on nose or something which gives your kids signals that you love them.
7. Make Bedtime a Special Moment
You can have the unique
bonding
experience during
bedtime
. Just before your kids go to sleep, lie beside them and read them a sorry as they happily sink in the world of dreams, happily.
8. Get Excited When You Catch Them Doing Good
Nodding heads do not do the job. For proper motivation, make sure you show your kids how excited you get when you find them doing something good. Appreciation always makes kids happy and encourages them to do more good deeds.
9. Go for Shopping with Your Kids
Set up a grocery list and go out with your kids to the store and ask them to help you out choosing the items from the racks. Not only they feel responsible about it, but they also feel happy as they feel special thinking that they have taken the lead to shop.
10. Just Play with Them
Play with your kids – it is fun! They feel really happy when they find their parents taking part with them in their funny childish games. Enjoy the fun and laugh together!
There may be issues with your kids at school like bullying or can be anything worse. You should be always aware of how your kid is doing and what the matter is, so always talk with them if you find them unhappy. Show them you care and you love them, and bring that smile back on their face.

How to make kids happy every day? Why is it necessary to ensure that kids feel happy and cheerful every day? Which little things can make kids happy every day? Discuss here.