"A child needs a father to show him how to be in the world. He needs to be given confidence, taught how to read a map so that he can recognise the roads that lead to life and the paths that lead to death, how to know what love requires, and where to find steel in the heart when life makes demands on us that are greater than we think we can endure."


-
Ian Morgan Cron
What do you think is the role of a father in bringing up his children? Do you think that a father should be a teacher, a disciplinarian, a provider, or a friend? Find out what your parenting style is by reading about the different types of fathers.

Disciplinary Dad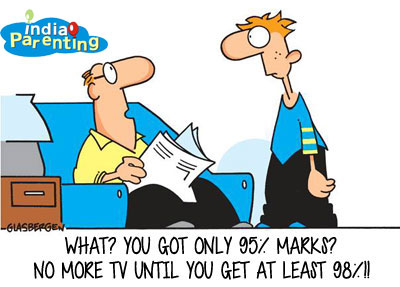 You are the disciplinarian and rule maker of the family. You are driven to improve the quality of your family's life and your word is law. The children will not even think of rebelling against your rules or questioning your position of authority. You believe that as leader of the pack, it is your duty to set guidelines for your family to follow to excel and succeed in life, as per pre-decided goals and objectives. You decide and oversee punishments while ensuring that your kids understand that misbehaving or bad deeds have bad consequences. As a result, your children learn from their mistakes and are scared to disappoint you. Sometimes, you get exhausted of acting like the "bad guy" but you continue to enforce your rules and values to teach your children to be responsible, accountable and fair in life.

Pal Dad

You are the light-hearted joker of the family. All your children's friends love you. You love teasing and goofing around with the kids. You are a good sport and love being part of, or the object of, pranks. You enjoy social events and are the life of every family get-together. You consider rules to be the enemy and believe that successful parenting means being good friends with your children. You know all about technology and can give kids a run for their money while playing video games. You enjoy spoiling and indulging your kids occasionally. Your wife gets upset with you from time to time because your good cop routine forces her to always be the bad cop in disciplining your kids. You believe in never holding back affection from your family and you children receive hugs and pats on the back for everything from cleaning their room, to finishing their dinner.

Fully Involved Dad

You are the dream come true for most stressed and harried moms. You are involved in every aspect of raising your children and have no qualms against handling household chores such as cooking, cleaning or shopping. You tend to be of a more traditional bent of mind and prioritise your family over all else. You have strong morals and believe that no job or person is too small. You are the master repairman of the house. Your style of parenting is to teach by example. You believe your main job is to protect your family from all negative aspects of life. You believe in communicating with your kids about everything under the sun. You keep your children apprised about all the dangers of the world so that they may be careful and prepared for very calamity that may befall them in life. Your problem is that you are so involved in your children's lives that you sometimes find it difficult to let them make their own mistakes or take their own decisions. You are always there for your kids and wife and they know that they can always count on you for support and security.

Referee Dad
You are the Mahatma Gandhi of the house. You have the only neutral point of view in your family. You step in when your children are fighting with each other or with their mom or with your extended family. You are extremely patient and calm which is a necessary trait for a referee to have. You do not get easily swayed by the one who is yelling the loudest but you are thorough in getting to the bottom of every issue. You strive to achieve peace and harmony in your home and you try to teach your kids to behave nicely towards one another by behaving that way yourself. When required, you take the tough decisions such as the degree of punishment to be meted out to the wrong doer. No matter how angry and upset your kids are, once you blow the (metaphorical) whistle, your kids know to quieten down and let you sort things out.

Coach Dad

You may have just come back from the office exhausted, but you are always game for some games. You love to connect with your kids in an active setting. You may not be involved in the day-to-day raising of the kids but you are the parent who teaches the kids to set goals, compete and achieve those goals. You love to see your kids participate in contests, matches, shows, etc. You feel that competitiveness is one of the cornerstones of success and strive to instil that trait in your kids. You try to inculcate a sense of adventure in your kids. You push them to go bungee jumping, rock climbing, river rafting and other adrenaline spurting sports. You want them to be able to have a horde of experiences so unique that they can talk about for the rest of their lives. You can be patient or aggressive depending on the situation. You know when to push your kids to do better and when to support them when they have had enough. You are the dad that teaches your kids new outdoor activities. You want your kids to love the outdoors and appreciate the physical activity and sportsmanship that comes with it.

Business Dad
You are a provider by nature. You believe that it is your job to work hard and support your family. You leave the day-to-day parenting to your wife and you gain satisfaction by providing financial security for our wife and kids. While your moods may get affected by the ups and down in the stock market, you ensure that you child's wants and needs are fulfilled to the best of your ability. You ensure that your children go to the best possible schools; they have the best private tutors and the best clothes. You want your children to have more than you ever had. You believe that by providing your child with all that he needs and desires, you are ensuring that he has all the tools he needs to succeed and excel in life.