MARS MANIA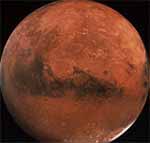 A lot of people are awestruck by space - the very thought of its magnitude and infiniteness is overwhelming. But in spite of all the wonder the mysteries of space hold for us, we don't know much about it, nor do we care to enhance our knowledge. Few of us can name the nine planets of our solar system, and fewer still know some details about any of these planets (excluding earth!). So perhaps it's time you took time out and increased your general knowledge.
Mars is a planet that has fascinated us earthlings for centuries. Not only is it our neighbouring planet, but its atmosphere also allows for the possibility of life! And that's what space researchers and scientists have been trying and trying to find out. Is there life on Mars? Well? Read on and get 10 fast facts about this captivating planet.

1. Mars is named after the Roman God of War, probably because of its violent red colour. Mars is also known as the Red Planet. The Greek God of War is Ares, and thus the Greek name for Mars is also Ares. Interestingly, Mars is the planet of the sunsign Aries, and the name of the month March is derived from the name of this planet.
2. Mars is the fourth planet from the sun. It is also the third smallest. The two smaller planets are Venus and Pluto.
3. While the earth has one satellite, the moon, Mars has 2 satellites. Their names are Phobos and Deimos.
4. While the Earth's atmosphere is primarily nitrogen and oxygen, Mars' atmosphere is mostly composed of carbon dioxide. Mars has a very thin atmosphere, which also contains a little water vapour.
5. The temperature of Mars is such that it causes the water vapour to condense immediately. As a result, the atmosphere is pretty cloudy.
6. Mars is what is known as a 'terrestrial' planet. Like Earth and Venus, it has a rocky surface. Mars is an extremely volatile planet, and volcanoes erupt here frequently. There are also great dust storms here that are so huge they engulf the entire planet!
7. Scientists are busy looking for water on Mars. While water cannot stay on the surface of the planet because it freezes or evaporates, it just might be present somewhere in the interiors of the mass. Why are they looking for water? Because if water is present anywhere on the planet, there is a very strong possibility that life just might exist on Mars!
8. While Mars is smaller in size than the earth, it moves slower on its own axis, so its days are slightly longer. Also, it takes Mars 687 days to rotate around the sun. Thus, a Mars year is equal to 687 days.
9. The Odyssey spacecraft recently completed a successful series of orbits around Mars, and the resultant information and photographs are proving to be very helpful to scientists studying this planet.
10. Mars is an extremely cold planet, which results from its distance from the sun. The average temperature on Mars is - 63 degrees C!




INDIAPARENTING IN THE NEWS
HOME | Contact Us | Comments or Suggestions | Site Map | Resources | RSS
All Rights Reserved Worldwide. (c) 1999 - 2018 India Parenting Pvt. Ltd.
Please be sure to read our Copyright, Disclaimer and Privacy Policy