Bharat Returns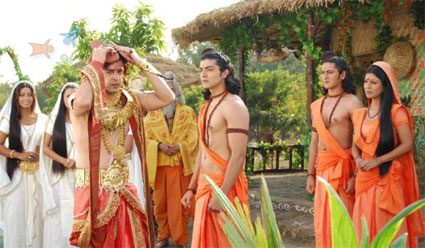 Dashrath's death sent waves of shock throughout the kingdom of Ayodhya. Bharat, who was now to rule, was sent for.
Dashrath's passing away sent waves of shock throughout

the kingdom

of Ayodhya.

Bharat

,

who was

in Rajagriha visiting his maternal grandparents along with Shatrughan, was sent for.
Bharat too had started feeling restless and wanted to return to Ayodhya. He had had a bad dream, which had upset him greatly. His friends tried to cheer him up and enquired about the dream.

Bharat

answered that in his dream he saw his father fall from the top of a mountain into a pool defiled by cow dung. Dashrath then started laughing and drinking oil. After this, Bharath also saw an ocean dry up, the moon crash on the ground, mountains vanish into dust and other bad omens in his dream. He thus had a strong feeling that something was not quite right. The charioteer and messengers then arrived to take the brothers back to Ayodhya, but they had been given strict instructions not to convey the bad news to

Bharat

.
As the

brothers

neared
the kingdom
,

Bharat

noticed that the city was very quiet and gloomy. They reached the palace and

Bharat

anxiously looks for his father. Upon being unable to find it, he seeks out Kaikayee. When Kaikayee sees her beloved son, she runs to him and embraces him. She enquires after her parents and her brother, and

Bharat

informs her that all were well.
Bharat

then enquires after Dashrath, and Kaikayee very slyly tries to disguise the tragedy by pretending as though she is conveying good news. She lets him know delightfully that Dashrath has passed away, as all people do, and that

Bharat

will now

rule

Ayodhya.

Bharat

, who loved his father deeply, was gripped by grief and fell to the ground in pain and shock. He then asked where his

brothers

Rama and Lakshman were, and Kaikayee said that they had been banished to the forest. Hearing this,

Bharat

was greatly surprised, as he could not imagine his

brothers

wronging anyone - so why would they be punished in this manner. Kaikayee then told

Bharat

everything, and added that she had done it all for

Bharat

. She stated that

Bharat

should

rule

with courage, and

the kingdom

and citizens of Ayodhya were dependent on him now.
Kaikayee's words shocked

Bharat

, and he now looked at her as he had never seen her before, with hatred in his eyes. He expressed grief at her behaviour and her greed, and blamed her for the death of his father, and added that he would never

rule

Ayodhya. He would instead go to the forest, bring back his

brothers

, and would serve as their attendant.

Bharat

and Shatrughan then go to meet Kaushalya, who, faint with grief, falls down as they approach her. Seeing her in this state move both

brothers

to tears. They rush to help her up, but she shuns them. She looks at

Bharat

with distrust in her eyes, and tells him that
the kingdom
he so desired was now his. Her harsh words pierced Bharat's soul, and he fell to her feet swearing that he knew absolutely nothing about any of this, and that to blame him would be grave injustice. He then harshly cursed the person

who was

responsible for all that had happened, and begged Kaushalya to accept him as her son. Kaushalya, seeing Bharat's genuine pain, embraced him.

Bharat

, submerged by grief, lost consciousness.
You may also be interested in: