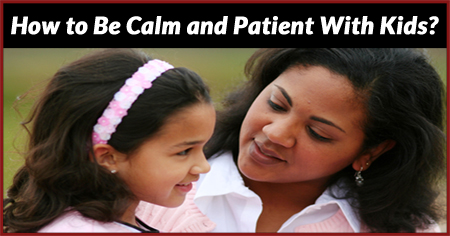 When you have children, there are times when you might be disturbed with crazy behaviour and tantrums. Follow these tricks that can help you be calm, composed and patient with your kids.
Kids are not always as loving and as you want them to be. You have to face lot of times crazy behaviour and tantrums that can turn you mad. But you can stay calm and even when the fact is that life with kids is challenging.If you have children you must be aware that sometimes it really becomes difficult to keep up your calm behaviour. On the other hand you might have seen some people who are cool, peaceful and in control even when they are surrounded with chaos. Well, this is not very difficult to achieve either.You can practice the techniques with the help of yoga and meditation and keep yourself cool and boost your serene powers.
Tips to Help You Stay Calm
Here are some tips and tricks that can help you
be calm
and composed with your kids.
Rise Early in the Morning
If you get up early morning you will have some time for yourself which would turn out extremely relaxing and rejuvenating for you.
Rejuvenate Yourself
Take some time off from kids and your daily work schedule and do something that you actually love to do. Sometimes just be yourself and forget about other responsibilities to recharge yourself physically and emotionally. Let your spouse handle your kids during this time.
Take Proper Rest
Rest is very important especially when you have small kids around. Going to bed early at night can solve this problem for you and your children will also get into the habit of going to bed early and rising earlier in the morning.
Deep Breathing
Take a deep breath when you feel stressed or over pressured by your kids' chaos and commotion. Always avoid punishing your child when you are angry. When you feel extremely angry, just step outside and have some deep breaths.
Exercise
Do yoga, walk, run or jog. This will make parenting easier and help you calm down as well.
Take Care of Yourself
There are many moms who do not take proper care of themselves. Make sure you eat well and have enough rest that you need.
Enjoy the Moments with Kids
Just be grateful and enjoy the present time with your kids. Seriously, you are going to miss everything when they grow up.
Focus On the Present Time
When you are with your children do not pretend to be present, but enjoy every moment you are with them. You will feel much better and happy too.
Avoid Giving Negative Instructions
There are many situations when parents give negative instructions to their kids even without listening to them or paying attention to what they want. So, avoid saying 'no' to your kid just because of your inconvenience.
Try to Be Positive
Surprisingly if you filter your responses through a 'yes' instead of saying 'no' to your kid and they see the positive wave in your eyes, he or she would feel much happier doing that thing.
Read
Try to read books and articles on
parenting
. Reading and knowing other people's view can help you stay cool in a lot of circumstances. You might get some positive notion to handle some situations that you might be finding difficulty doing.
Give Space to Children
Usually moms restrict their kids doing a lot of things just because they are
over protective
. You should accept your child's individuality and separateness from you. Even when there is a tantrum thrown by your kid, wait and let it pass.Above mentioned tips are just some of the many that you can try to stay calm and
patient
being a parent. These will help you nurture and bring up wonderful and loving children.
How to handle kids? How to be calm and composed with mischievous kids? What are the ways to avoid getting angry at kids? Discuss here.