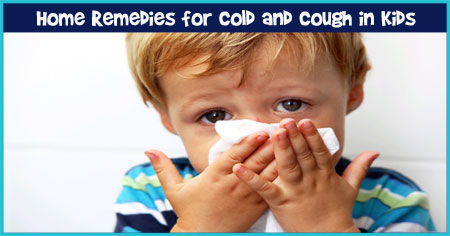 Cough and cold in children are very common especially during rainy season. Many parents rush to get medical advice or medicine on even a few sniffing of their children. However, there are home remedies for cold and cough in children to help them recover fast and better. You must consult your paediatrician before trying these remedies on your child.
If your child is allergic to any of the ingredients mentioned below, you must avoid these remedies.
If your child is suffering from cold, cough or flu, try mild, effective and harmless home remedies. These remedies will not shorten the usual course of the problem, but will surely help reduce the discomfort caused by it.
The home remedies are safe and free from any side effects unlike medicines and will definitely help your child feel better. Most of the medicines have potentially dangerous side effects and parents are really concerned about the present and future health of their kids.
Home Remedies for Cold and Cough in Kids
Have a quick look at the simple
home remedies
for dealing with
cold and cough
in children.
1. Honey
You can give your child honey to sooth cough symptoms. This is extremely effective if given before going to sleep. Your child will not have the discomfort of night time coughing and will sleep better. However, children below the age of one are not recommended honey and so you should be very careful.
2. Turmeric Milk
Giving a glass of milk to with a pinch of turmeric powder your child can help to ease the symptoms of cold and cough to a greater extent. To add taste to drink you can add a little sugar so that your child does not make a fuss while drinking it. To get better results boil milk with few small pieces of raw turmeric, add a little sugar and give this concoction to your child after it is cooled. It is even better if your child drinks this concoction a little warm. This drink will help to sooth cough,
cold
as well as
throat infection
.
3. Lemongrass Milk
Another concoction which helps to provide relief from cough and cold is a concoction made using boiling milk along with few lemongrass leaves, raw turmeric, piece of cinnamon and a little sugar for taste. Boil this mixture for few minutes, let it cool and then give it your child after straining it. This drink tastes unique because of the spices added to it and is also every helpful to provide relief from cough and cold.
4. Garlic
Garlic is very effective in cough and cold symptoms. The only problem you will find is making your child consume it. Try to give your child finely chopped
garlic
in any way you can so that he or she gets relief faster.
5. Ginger
Ginger is very effective in reducing cough. Even a small piece of ginger, if kept in mouth, works wonders in reducing the discomfort of continuous coughing of your child. Nowadays,
ginger
candies are available in the market. You can give such candies to your child if he or she does not like to have a piece of ginger.
6. Chest Rubs
Chest rubs to relieve the symptoms of cough and cold are available in the market. If your child is above the age of 2, you can massage the chest rub gently on your child's neck and chest and also her back before going to sleep. This will help her sleep well and recover fast as well.
7. Gargling
Gargling is done with salt added to warm water. This will relieve your child from the cough and throat infection caused due to cold. This is not a cure, but if done repeatedly, it works reduce the pain and other symptoms to a great extent.
8. Tulsi or Holy Basil Leaves
Give your child few leaves of Tulsi or Holy Basil to eat after washing them properly. You can also make juice out of these leaves and give a spoonful to your child twice a day. This is a traditional Indian remedy for dealing with cough and cold. Make sure that the extract is fresh. To get rid of the bitter taste you can add a little honey to this mixture. Tulsi or Holy basil leaves have got wonderful healing properties and can help to relive cough and cold faster.
Measures for Helping Child Cope with Cold and Cough
Here are some measures which you can take to ease the symptoms of cold and cough in your child.
1. Rest
Good sleep helps heal when sick and is truly a great medicine. Proper and sufficient rest also keeps children healthy in good times. While your child will be resting, compounds are released which would help boost her immune system and make her feel better as well. Just make sure that you do not cover your child with too many layers as this might increase her body temperature and make things worse.
2. Elevate the head of your child
When sleeping if the head of your child is elevated, it will help soothe her and also help drain the sinuses easily. You can simply add something like a towel under the pillow.
3. Fluids
Make sure you keep your child hydrated properly so that it helps flush out germs. You can make your child drink lots of water, fruit juices and soups. You can also give your child warm milk to drink as this will make her feel better.
4. Chicken Soup
Chicken soup is considered as one of the best remedies when you are suffering from cold. The best thing is that even the ready to make soup is also effective and so in few minutes you can provide your child something that would definitely make her feel better and she will readily have it as well.
5. Warm Bath
When your child is suffering from cough and cold you should let her take warm bath. Warm moist air is very effective in providing relief from the symptoms of cold and cough.
6. Practice Hygiene
Since your child is suffering from cough, it is advisable to keep the room properly clean. Remove the irritants and allergic items from the room, avoid wearing perfume or using room fresheners, do not allow your pets to enter your kid's room, remove the stuffed animals also and avoid smoking inside the house.
Although the above mentioned home remedies are safe and very effective in curing cough and cold of your child, remember that treatment is not always necessary. If your child is happy and playing normally even if she has cough, cold or congestion, you may not need to worry. But if the symptoms get aggravated, you need to consult a doctor immediately.
So, make use of home remedies and treat cold and cough of your child only when it causes discomfort and disrupts sleep. If your child feels better and the symptoms subside through these home remedies, there is no need for any medical intervention.
Just keep in mind that using home remedies is better than medicines if the symptoms of cough and cold are mild. On the other hand if problem persists or gets enhanced, you should take medical attention and see the doctor.
Is it possible to cure cold and cough in children through home remedies? Which home remedies provide immediate relief to children from cold and cough? How to prevent cold and cough in children? Discuss here.