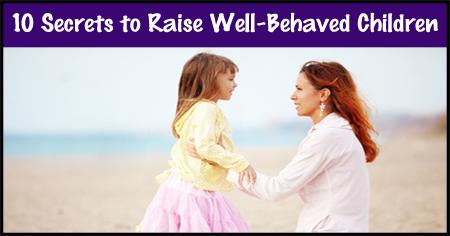 No parent wants to raise children who misbehave and who lack discipline. Are you aware of few facts behind raising well-behaved and well-mannered children? Find out the 10 secrets to raise well-behaved children right away.
Is there any parent who does not want to raise a well-behaved and disciplined child? No, of-course none. It is very easy to say "Yes, I will raise my child into a well-behaved individual", however, it is not simple and our society makes the situation very hard making them react in opposite ways which are against all the good aspects. But the fact is that parents do face some difficulties in bringing up a good child, which does not mean that it is impossible. Here are 10 secrets to raise well-behaved children.
1. Spend Quality Time
The top most need to make the children happy, supportive and enjoy the day is one-on-one communication daily. All children expect attention from their parents. When they do not get time to spend with their loved ones, anger arises and reflects in all the activities they do.Nowadays, both the parents are working and thus do not find time to engage with their family members. But parents need to understand that spending 15 to 30 minutes with children every day is not a big deal. Just be away from the mobile phones, avoid checking mails and stop multitasking. Involve with the kids in few activities like reading books, painting, singing, drawing etc. Provide them with comfortable environment, shower love on them, talk to them nicely and see the magic. The situations that trigger
misbehaviour
will stop arising.
2. Stop Comparing Your Child
Never ever compare the child with their friends or neighbour's children. Each child has different character, attitude, talent, and
behaviour
, which must not be compared with any other child. If parents start comparing their child in a negative aspect, the child becomes more depressed and will never come up with positive thoughts. Let your child be in her own way and enjoy her own freedom. But make sure that you always there to guide them how to differentiate between right and wrong.
3. Inculcate Good Manners
Obviously, children are not aware of what should be done and what should not be done in their daily life. Few necessary daily actions like getting up early, brushing teeth, taking bath, cleaning the room, arranging the books, and so on must be taught in a polite way. These habits look very simple, but it is completely confusing for a child who is not sure how and where to start. So, it is a must for parents to provide right guidance.
4. Praise Good Behaviour
Whenever there is a positive sign seen in the child's behaviour, always praise her so that she gets an encouragement in some way and proceeds with more confidence. Though her action is very simple and silly, it is better to praise her
good behaviour
so that she behaves in the same manner next time as well.
5. Allow Your Child to Think
Instead of advising or sharing opinions all the time, stimulate your child's thinking skills. If the child wants to know how to perform a task or how to answer a question, put a question forth to her like "how do you want to answer this question or how do you want to perform this task?" Such a response will permit the child to think and gain confidence to face the challenges in life.
Do not offer the things immediately demanded by the children as it might build-up more expectations in them and they will not learn to have patience even in a tough situation. You need to do it purposefully. Teach your child to wait for her turn. Do not fulfil her unreasonable demands every time.
7. Help them Understand Body Language
Enabling the children to understand gesticulations and facial expressions is one of the basic methods to promote responsiveness. Parents must provide their toddler indicators like "Did you notice your dad when he received positive feedbacks about you in PTA meeting? He was happy and proud. You made him feel so good." The child may not completely recognize what she does, but they will get an idea of other peoples' reactions and well trained to find out how the people behaviours impact others.
8. Create Simple Rules and Regulations
Creating lengthy rules and regulations look very complex and the children would feel so bored in implementing them, resulting in incomplete tasks. Within a family, strict rules will never work out as the kids need some firmness and love all the time from their parents. Hence, make the rules simple and clearly communicate on the expectations in order to achieve constructive results.
9. Avoid Threats
It is good to avoid using blind threats at any point of time. Unnecessary threats will make the children to get used to them and they will never come up with the good result. They will easily wipe it out and carry on with unacceptable actions.
10. Be a Role Model
Most of the children watch out the actions that their parents do and they as well try to follow those. For example, if the mom shows her anger to others throughout the day, the same will be carried out by them when they grow up. Thus, parents must take care of their own activities which they do in front of children so that they become a role model for them.All the above discussed secrets cannot be taught in a single day for a child. Take some time to bring them up in a right way, but never expect them to shine in all aspects in a very short period as that might be overwhelming.
Discipline
, willpower, caring for others, equality, tolerance, determination, self-esteem, and a few other qualities should be inculcated in the first five years of the child's life as they are the cornerstones of a successful and a happy life.
Why do some children lack discipline? What are the reasons for misbehaviour in children? What are the ways to raise well-behave and well-mannered children? Discuss here.