Raising Children Topics..
A Baby's Secret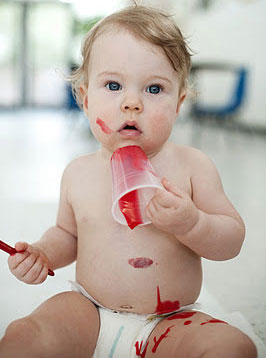 16th October 2005: This is my experience with my 1 year old, when he first shared his

secret

with me.
I had seen Ahan climb up the small window by the bed several times. He would climb on to the front of the bed, hold the window g

rill tightly in his little grip and look out excitedly. He used to do this often, during the day, evenings and even nights.
For a one-year old, Ahan is quite a playful child - probably the most playful I have seen in my life. But then, 'There is only one best son who was ever born, and every father has him!' He rolls on

the bed

, jumps, dives and performs every possible acrobatic stunt his little legs can allow.
I imagine, it is among his many favourite mindless frolics. But Sunday (16th October) was different. Ahan and I started our 'game' after an elaborate European lunch! He was as usual excited at the idea of playing with Dad on a Sunday afternoon. First it was the roll - with a lot of tickle and laughter. We jumped on

the bed

, pushed each other and then fell flat and laughed. This is something Ahan thoroughly enjoys.
Then it happened. He suddenly stopped and looked towards

the window

, while I caught my breath. He turned quiet, and then swiftly moved to

the window

. It seemed as if he had received an SOS call from his inner-self .He quickly climbed on the front of

the bed

, tightly held the grill and looked outside. For a moment he focused outside, as if looking into the eyes of his

secret

friend whom he admired so much. He still kept his serious quiet look on.
As always, my first reaction was to pull him away from

the window

. I leapt to hold him and then to smoothly pull him away, fearing that he may slip and hurt himself. When I held him, he showed no reaction and remained unfazed. He kept looking outside, and without a word, turned and looked deep into my eyes. I had never seen him in such intense and composed posture.
That afternoon, my son introduced another side of his personality to me.
He nodded slowly to himself, as if agreeing that I qualified to be let into his

secret

world. He then looked outside and pointed his little finger intensely at the wall outside

the window

(this little window opens into a little space, facing our neighbor's little window - which is closed all the time. You can largely see the wall). By then I had understood that my son wanted to say something to me. I listened. He started talking to me in his blabbering language, pointing his finger at the wall, nodding his head continuously.
If you, in your haste of life, look at a child doing this, you would pass this as his little frolic. But it all changes, when you make an effort to listen to him, try to connect with him, and respect his individuality. I didn't want to lose this moment with my son in haste. He had never revealed his little

secret

story to anyone until then.
Maybe, no one ever made an effort to listen to him or had the time to spare for his little

secret

. He had collected this story in bits and pieces, through his innumerous visits to the

small window

. Today, he had his first confidant in his father. He was excited - and it showed in Ahan's eyes. His serious look slowly turned into slow excitement, as I continued to listen to him and follow his instructions to look outside where his finger pointed. Gathering that I was interested in his story and understood his language, he became more excited. He spoke even more to me, nodded more and pointed at the wall. Several times, he would pause, to allow me a breather in his fast paced story and clarify any queries or problems I may have faced in following his story. He would continue only after I looked at him, and nod in agreement.
This lasted for over 15 minutes, and then Tuhina, my wife, walked into the room. As if his little

secret

would be out to many, he quickly stepped down from
the bed
and jumped away. He turned around and looked at me, asking me for a promise not to share his

secret

with anybody.
What was the

secret

? I don't know. I will never know. But that is not important. What mattered to me was that my son engaged me in his little

secret

for the first time! It means a world to any father when his son lets him into his world as a confidant. It is the start of a very long friendship.
To see other article by Chaitanya Prakash or contact him:
click here
You may also be interested in:
Back to Previous Page | More on Raising Children Index