| | |
| --- | --- |
| | |
What Smart Parents Do to Save More Tax & Get More for Their Children
As a parent your dream is to raise your children into confident, well balanced and successful individuals. You fulfil all your responsibilities related to their schooling, extracurricular activities, coaching classes or lifestyle like having a better home and car for extra comfort and safety. You try to fulfil every possible wish of your children without letting finances coming in the way of their happiness, don't you?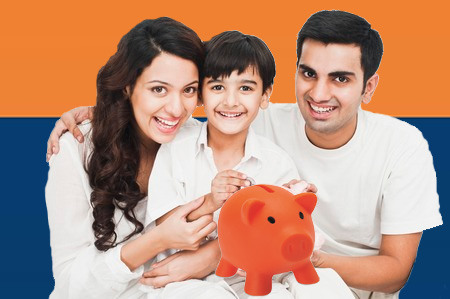 However, in the process of ensuring a good and convenient lifestyle for your children, you end up spending a good part of your income in expenses like EMI's for home loans, car loans, etc. In addition, are educational expenses, daily household expenses, small and big vacations and more. Your family enjoys all the perks stress-free, as they know that you are there to care for them. They depend on you.
But, as we all know - life is uncertain. Additionally, our current lifestyle has led to an increase in critical illnesses like heart diseases and cancer. The increasing pollution in our cities these days adds to this unrest.
You need to be prepared for these uncertainties, especially, because you are a parent. You need to plan for your family for the time when you may not be around so that your children do not face any financial problems.
One way of being prepared for such uncertainties is a Term Insurance Plan. Term insurance is a tool which ensures security for your children and family in case of an unfortunate event. It will also cover permanent disability due to accident, in which case the premiums will get waived off without any discontinuation in the policy and its benefits.
You can also top up your plan with a critical illness cover which will act as a safety net against 34 critical illnesses like heart disease and cancer. This top up offers immediate payment on detection in case you are diagnosed with any of the 34 critical illness. This money will give you financial power to fight back using the best doctor and hospital of your choice. It will also cover the unfortunate events like permanent disability due to accident. In such a case the premiums will get waived off without any discontinuation in the policy and its benefits.
Just a nominal amount of Rs.32.27 per/day gives you a cover of upto Rs.1 crore. With this amount, your family will not only be able to pay the debts but will also be able to manage the daily expenses. What's more, you also get tax savings u/s 80C and 80D when you buy a term plan with a critical illness cover.
The Term Insurance will also help you to save a good amount of tax of upto Rs.54,075/ u/s 80C and 80D which will in turn help you to get more for yourself and your children. You can use this saved amount for doing extra things for your children.
So, this year when you plan to invest and to save for yourself, your children and your family, do consider a Term Insurance Plan with a critical illness cover. By buying a Term Insurance Plan, you will not only invest smartly and save more tax, but will also get back more. It will give your family a double protection in form of a health cover and a life cover in just one plan.
So, what are you waiting for? Make your family and children independent even in your absence.Calculate Term Insurance needs instantly by using the calculator provided below. The plans are easily available online with all the details for an easy purchase.