| | |
| --- | --- |
| | |
Tips to Ensure Your Child's Safety in School
In today's fast paced and modern world dangers are lurking everywhere. So, the safety issues related to children cannot be overlooked. We take all safety measure to keep children safe at home but what about their schools? Children spend most of the time of their day in schools and so it is very important to ensure child's safety at school. Here is what can be done.
Ensuring Child's Safety at School
Here are some tips which parents can follow to ensure child's safety at school.
Discussion with Children
It is important to have discussion with children on daily basis to find out how their day typically was. They should be made comfortable to share about what they liked and what they disliked at school. In this way if anything wrong is happening with the child, he or she will open to share it with parents.
Dropping and Picking-Up Safely
While dropping your child to the school, make sure that you wait till the attendants in the school receive him or her. If attendants are not available do not leave your child alone. Make sure that you pick and drop your child on time. If you are opting for a school bus service, do not leave until your child boards the bus. Make sure that you take the bus service that is affiliated to the school.
Stranger Safety
Teach your child not to talk to strangers and avoid paying attention if any strangers try to talk to him or her. Teach your child not to take any chocolate or any toy from any strangers no matter how exciting it is. In case if your child comes across such strangers, tell him or her to inform you or the teachers immediately. Nowadays, schools provide identity cards to parents as well as to the care takers who come to pick and drop the child. If your child's school does not provide it, you can suggest them to provide it for the sake of child's safety.
Other Safety Measures
Make sure that your child memorises at least one parent's contact number.


If you are appointing someone to pick and drop your child to school, make sure that you have all the details of that person.


Teach your child how to use a phone in case of emergency.


Help your child build good rapport with his or her school teacher and ask for help from her if something goes wrong.


Make sure that your child is also aware about the good touch and bad touch.


Teach your child to follow the school discipline and the instructions of teachers.


Teach your child not to go anywhere in the school alone.
How to Choose Safe School for Your Child?
Nowadays most of the schools are equipped latest technology to ensure safety of children in school. Most of them make use of CCTV cameras, GPS system enabled school buses etc; to monitor children and the staff in school. But Footprints Preschool is way ahead of these schools. Most of the parents evaluate a lot of schools before finalising the school in which their children will study. They must have noticed that most of the schools do have common safety features but do not provide advance features like live CCTV stream from the class of the child, smart app to monitor all the school activities, etc which are provided by Footprints preschool.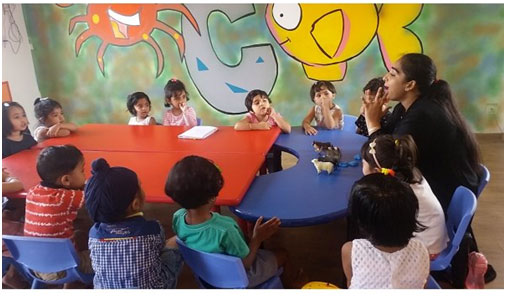 Interactive Session with Children at Footprints
Let us now take look at some more details on why Footprints Preschool is a best preschool for your child as far as safety measures and tech-enabled monitoring is concerned.
All activities in the school are done under highly controlled and regulated environment.


Visitors are not allowed to access the outdoor premises without an OTP that is generated by the guard through school's app.


Teaching staff as well as children are provided fingerprint enabled access and parents too are provided with access code through biometric system.


The responsibility of staff background checks and verification is entrusted to a very reputed agency.


High level of hygiene is maintained across all the centres by cleaning them fortnightly and using organic pest control in order to avoid toxins.


To prevent injuries from falls all centres have wooden and vinyl flooring and rubber padding is done to all the sharp edges of furniture and fixtures.


Staffs are not allowed to carry small and sharp accessories inside the school premises to prevent the risk of chocking or pricking.


Student-teacher ratio is followed as per the US standards.


Students are provided with healthy food only after performing through quality check.


School is equipped with first aid kits and doctor on call service for emergency cases.
Other Activities
Other fun activities that aid overall development of children are also carried out at Footprints Preschools. Such activities include sandpit activities, numbers jumping, yoga, taekwondo, cutting-pasting, drawing and painting, storytelling, dance and music, swings and slides etc.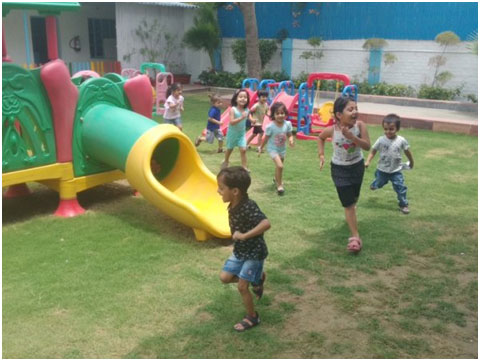 Outdoor Activities for Children at Footprints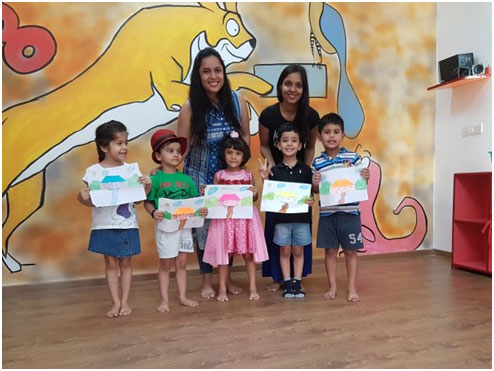 Drawing and Painting Activities for Children
Other Facilities that Footprints Preschool Provide
Here some other important facilities that are provided at Footprints Preschools.
Parents are able to monitor various activities of the child in school through the smart phone app which is developed by school.


Real time monitoring is possible through CCTV stream that is provided to parents through this app along with social media plug-in.


Children are provided with automated learning assistance. They are provided with innovative devices through which measuring learning outcomes becomes easier for parents.
Footprints will not only take care of your child's overall development but also of the security the issues. It is a home away from home for children where they can learn and grow in and regulated and secure environment. To tell you in short, Footprints Preschool is truly your parenting partner. So, say bye-bye to your worries and enrol your child in Footprints Preschool today!