Raising Children Topics..
Working from home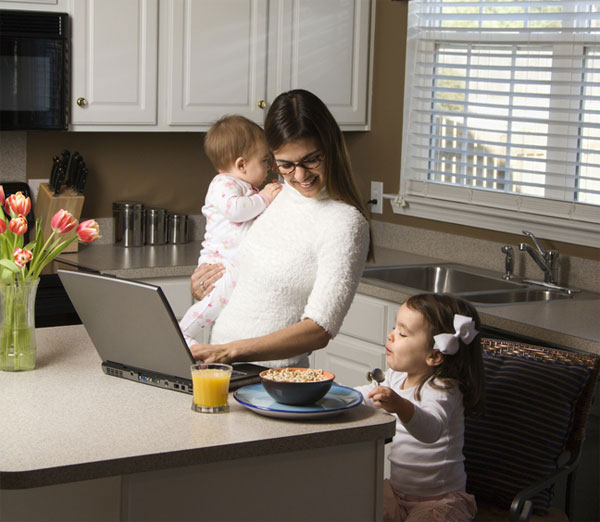 Working from home is a smart solution for many family problems, but balancing it is a task. Here are a few tips on how to do so.
Will you be able to work from home? Read on for great tips.
The arrival of a new baby changes the complexion of a woman's life. It
becomes increasingly difficult for her, more so if she is working, to get
back to her original schedule. She tries desperately to snatch time for
herself amidst night feeds and nappy changes. In such trying times, many women zero in on working from home. However, this alternative needs a certain mental grooming and preparation. IndiaParenting provides seven
pointers to help a new mother view and weigh her options in the
right spirit and perspective.

Nascent stage: If you belong to a developing nation like India, you will have to accept many inherent hindrances in your choice of working from home. The concept has not been completely accepted, unlike countries in the western world where many women operate from home. Therefore, do not expect instant appreciation of your option.


Never regret your decision: Being a `homemaker' is the last thing to feel unhappy about. Therefore, if you face any obstructions, it is just a short-term phase with long-term gains.


Judge yourself: Approach the option systematically and dispassionately. Scrutinise yourself from an employer's point of view. Find out if you can cope with the pressures physically and psychologically. Some women can work from home and some cannot. Which category do you belong to?


Invest in the right direction: Before starting on any venture, regularise a pattern for yourself, your child, husband and family. If you are a graphic designer, a writer, or a programmer, invest in a computer. Hire help, for professional and personal work. You might have to sub-let some work initially. If possible, you might have to redesign your house and allot some office space to yourself.


Never feel apologetic: A working mother is better than an unhappy mother. You have a right over some portion of your time.


Flexi hours are advantageous but…: You can fashion your housework, field visits, TV time (if any), reading and time with the baby, in whichever way suits you. But the flexibility and freedom might be impinged upon by well-meaning relatives and friends. You will have to slowly smoothen the schedule to your advantage.


Believe in yourself: Working from home demands a definite regimen. It means saying no afternoon naps and frequent evening outings. It also means timely supervision in the kitchen. Tell yourself you can do it, and prepare yourself before taking the plunge.


You may also be interested in:
Back to Previous Page | More on Raising Children Index
Discussion Forum - Recent Posts

The arrival of a new baby changes the complexion of a woman's life. It becomes increasingly difficult for her, more so if she is working, to get back to her original schedule. She tries desperately to snatch time for herself amidst night feeds and nappy changes. In such trying times, many women zero in on working from home. However, this alternative needs a certain mental grooming and preparation. SOME TIPS ON WORKING FROM HOME: 1. Never regret your decision: Being a 'homemaker' is the last thing to feel unhappy about. Therefore, if you face any obstructions, it is just a short-term phase with long-term gains. 2. Invest in the right direction: Before starting on any venture, regularise a pattern for yourself, your child, husband and family. If you are a graphic designer, a writer, or a programmer, invest in a computer. Hire help, for professional and personal work. You might have to sub-let some work initially. If possible, you might have to redesign your house and allot some office space to yourself. 3. Believe in yourself: Working from home demands a definite regimen. It means saying no afternoon naps and frequent evening outings. It also means timely supervision in the kitchen. Tell yourself you can do it, and prepare yourself before taking the plunge. Are you a working mother too? How do you manage your time and house? Share with us!


new
hi there,
I was married at the age of 22 and after a year had my baby and then went back to india and had to stay for long until i finally joined my husband with my baby. As as stated i never had...

Neha
I am a working mother and initially i used to find it very difficult to handle both office and my child. But i always had my mil to take care of my child whenever i was away at work!...

view more >>

DISCUSSION FORUMS ON
Articles
hello
hi iam vishal frm pune can i know wat experinces u hve in which field and i ... - vishal read >>

Great article
I really loved this article. I loved the points and tips. It was very helpf ... - Rinnie read >>

Parents pressure on children

Some parents put too much pressure on children which is not right. They ... - Pallavi read >>

Play Games with your child
Play games with your child and teach them as you play. As you play with you ... - Riddhi read >>

FEATURED ARTICLES
- Poor Immunity in Kids
- Five Fun Ways to Break Fussy Eating Habits in Kids
- Top 5 Easy-to-Make Ice-Candy Recipes for Kids
- Tips for Preventing Pinworms in Children
- Signs that a Child is Anaemic
- Things You Should Never Allow Your Son to Do
- Home Remedies for Cold in Children
- Reasons Why Kids May Start Disrespecting Parents
- Indian Baby Names
- Indian Baby Girl Names
- Indian Baby Boy Names
- Top 100 Hindu Baby Names
- Free Printable Coloring Pages for Kids and Adults