The Black Hole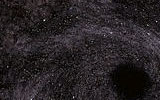 Most children are captivated by the universe, the stars, the galaxy… Feed your child's knowledge by indulging in an fascinating discussion of The Black Hole. Read on.
All of us have heard a lot about the Black Hole. But what is it really? Sure, it is a hole in space which is black in colour, but that's all most of us know about it. Except - how can there be a 'hole' in space? Can a vast expanse of nothingness have a hole? What's going on?

It's really not all that complicated, so you definitely don't need to be a genius just to have some very basic black hole knowledge.
Picture this. You throw a ball high up in the air. It flies up to a certain distance, and then, it falls down again. Throw it with a little more force, and it will go high, higher, before beginning its descent. Why does it fall down again? Because of the earth's gravity - yes, we all know that. However, the range of the earth's gravity does end somewhere beyond the atmosphere, so if we throw the ball up with so much force that it escapes the earth's range of gravity, the ball will never return to earth.
The escape velocity is the speed and force at which a certain object must travel in order to escape the gravitational pull of a planet or a star. The earth's escape velocity is around 7 miles per second.
What does the escape velocity depend upon? Essentially, as a planet is crushed into a smaller and smaller ball, it's escape velocity increases. So if the earth gets crushed into a smaller ball, its escape velocity would go up to 8 miles per second, then 9 miles per second, and so on. Why? Because the distance from the centre of the Earth will reduce, and it is this centre that emits the core gravitational force. So things would have to be thrown harder and they would have to travel faster, for them to escape the earth's gravitational pull. Eventually as the earth gets more and more compressed, there may be point when the escape velocity is so high, that it overtakes the speed of light! So nothing can escape, as nothing travels faster than light. What's more, even light cannot escape!
Thankfully, there isn't much chance that the earth will suddenly start to shrink. Black holes are formed from stars. We know that stars are burning balls of fire like the Sun. When they have completely exhausted their fuel, they explode, and what's left is a small mass at the center. These dead stars are called 'white dwarfs'. Sometimes these white dwarfs, because they were incredibly huge stars, much, much bigger than the sun, have a lot of matter left over after the explosion, and so have an immense gravitational force. At times the force is so strong, that it starts pulling what's left within itself, getting smaller, shrinking, and getting more powerful. Eventually, it overtakes the speed of light, after which light cannot escape, and we can no longer see the star. What's crazy is that it goes on shrinking to when it remains nothing more than an infinitely small point in space, but the incredible mass and gravity remain.
Does this mean that black holes will swallow up the entire universe? The answer is, no. The range of gravity will not increase, so as long as other objects in space remain far from these black holes, they are safe.
While almost all astronomers agree that black holes do exist, there is no really proof as these holes absorb light instead of reflecting it, and hence they can never be seen. The only way we will really know for sure if we ever get sucked into one!
INDIAPARENTING IN THE NEWS
HOME | Contact Us | Comments or Suggestions | Site Map | Resources | RSS
All Rights Reserved Worldwide. (c) 1999 - 2018 India Parenting Pvt. Ltd.
Please be sure to read our Copyright, Disclaimer and Privacy Policy