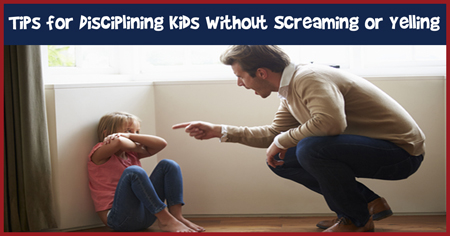 Do you scream or yell at your kids frequently? Read on to learn about the ways of disciplining without screaming or yelling at your kids.
You can make your children listen without raising your voice. Did you know there are many ways to discipline your kids?Sometimes you might feel that your child is not going to listen to you unless you scream or
yell
. But, you should know that this is only going to make things worse. Make some change and enjoy better behaviour when you are trying to
discipline your kids
. As parents, you should remember that disciplining does not always have to include punishment.In fact, effective discipline is to act in a manner which is consistent in values you want to convey to your kids. it is simple. If you scream or yell at your kid, it will give her the message that anyone can scream to fulfil his wish or need. You definitely do not want your child to think this way.
Ways to Discipline your Child without Yelling
Let us take a look at some ways to discipline children with screaming or yelling.
1. Set Clear Rules
This does not have to be rude. You simply need to be clear and understandable when you set rules. Give your child apt time to get used to the rules. Make sure you check from time to time and also help your child understand them very well. Sometimes this step does all your work because once a child understands what is acceptable and what not in her
behaviour
, she will not make you scream at all.
2. Educate About Consequences
Make your child aware of the consequences of her
bad behaviour
. Your child should know exactly what happens when one breaks the rule. This will also make her understand that all her actions will have consequences. You have to keep in mind that the consequences are reasonable and resonate with the rules you have set.
3. Put Into Effect the Consequences Straightaway
When your child does not follow rules, you should enforce the consequences immediately. If too much of time passes between the action and consequences, the effect will not be seen because the child will not be able to associate it with her action. Also, if you wait to execute the consequences, it might stretch your patience and make you scream or yell.
4. Be Consistent
This is one of the most important steps and this is where many parents fail. Once you set the rules and consequences, you need to be firm and consistent. Only then the child will understand the importance of rules in life and will follow them as well. If you get swayed by the child's crying or pleading, your child will not take the rules seriously. On the other hand, if you are firm she will understand and follow the rules more likely.
5. Praise Good Behaviour
Good behaviour often gets unnoticed. Everyone likes to be praised and if you praise your child on doing something good or following the rule, she will get encouraged. This is a positive way of restating the rules and retelling your children what is expected from them.Check and follow the above mentioned ways. Try to implement them and do not expect overnight changes. Give your child some time to adjust with your new findings and implementations. Consistent discipline is important and helpful for your child.However, sometimes it is not about the child's behaviour that makes you scream or yell at her. So, if after some time you feel that you screamed at your child without any reason, apologise to her. Let her know that parents are also humans and make
mistakes
. Check your stress level and calm your emotions. This will also help you be the role model anger management strategies for your child.
Is it possible to discipline children without screaming or yelling? Is screaming at children the right way to discipline them? What are the constructive ways to discipline children? Discuss here.