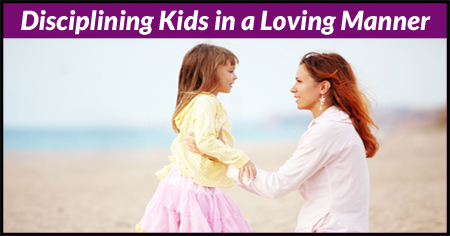 Is it necessary to be strict while disciplining children? Discipline can be cultivated in children by being lenient as well. Here is what you must know about disciplining children in a loving manner.
Imagine walking on a tightrope. That is exactly how it can feel while disciplining your child. You need to maintain a delicate balance between being authoritative and ignorant. Most parents do not perceive the field of
disciplining your child
as a delicate issue and this can mean wear and tear in relationships. For most parents, disciplining their child only depends on one principle. If the child does not meet the parent's standards of "decent behaviour", then most likely he or she will be punished.A parent should understand that disciplining a child is not about showing your child who's the boss of the house but teaching them how to be a judge of their own
behaviour
and correct their mistakes.Here is a guide to begin disciplining your kids in a loving manner:
Show Respect and Empathy
Parents often use one approach when it comes to disciplining their children. If the child is not behaving in an appropriate manner, he or she should be
punished
. These are short term actions that can have long term effects on your child's psyche. Disciplining your children by punishing them is a short sighted approach that can make him or her lose confidence in his or her actions and judgments. By being empathetic and showing respect, your child becomes the judge of his or her own behavior and understands by experience what is acceptable and what is not.
Avoid Pointing Out Faults
Instead of criticizing your child and pointing out his or her faults, you can teach your child to set standards for his or her behavior on his or her own in a loving manner. Disciplining kids in a loving manner does not mean pointing out their mistakes but showing them the right way to handle them. A positive and a loving disciplining experience will make a child view you as their friend and not their enemy and finally understand that you show your love and concern through discipline.
Build a Strong Bond of Love
Parents must build a strong bond of love with their children. Parents who share a stronger bond with their children raise them into more successful and cheerful individuals. Working on disciplining your child by making a love bond is essential to help your child accept and respect your power and authority.
Avoid Negative Emotions
One of the major issues in loving discipline arises when emotions other than love surface, such as anger, frustration and lack of patience.
Anger
can be the most destructive emotions of all, making them fearful and low in self respect. Showing your anger to your child creates a negative atmosphere around your relationship, which can end up being destructive to your
child's psyche
. By being angry, you send a message to your children that you do not like them or they do not match your expectations. Your children can feel that you hate them and might feel guilty for making you angry. Imagine your children dealing with both your anger and their guilt. By disciplining kids in a loving and empathetic manner, you instil in them the qualities of compassion and kindness.
Key to Positive and Loving Discipline
You are a successful parent if you have managed to establish your authority on your children without being offensive or creating a power struggle loop. The key to a loving disciplining experience is being patient with your children and having the faith that they will understand what is beneficial for them with experience. Children, just like you, do not do well with harsh orders but with love and compassion. If you treat your child the way you would like to be treated, it is most likely that they will hear your side of the story calmly and do as you say.Your child needs to know that discipline stems from love and care and every effort you make is for their own good. By adopting a positive and a loving approach to disciplining your children, you can make sure they evolve into wonderful and compassionate adults.
Why is it necessary to be calm and patient while disciplining children? What are the ill effects of disciplining children in harsh manner? What are the benefits of disciplining children in a loving manner? Discuss here.