Dealing with Stretch Marks during Pregnancy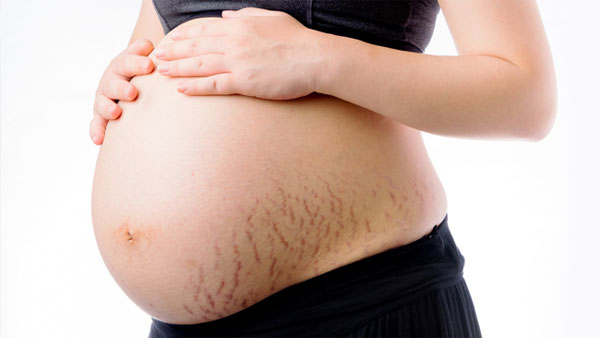 Stretch marks are the part and parcel of pregnancy. One of the most common causes of their appearance is stretching of skin due to weight gain and the growing womb. But if you take right care these stretch marks can be avoided to a greater extent. The key to dealing with these stretch marks is to start taking right measures as soon as you come to know that you are pregnant. Discussed below are some useful ways to deal with stretch marks during pregnancy.
Tips for Dealing with Stretch Marks during Pregnancy
The most beneficial way to deal with stretch marks is to take preventive measures even before they start appearing. Here are some things that you can do.
Keep Your Skin Hydrated
Keeping yourself hydrated can work wonders in preventing and dealing with stretch marks. Drinking plenty of water is one of the best ways to keep your skin hydrated. Another way to keep your skin hydrated is to moisturising it twice-a-day. There are many moisturizers that are available in market that can be used to keep the skin hydrated. Some of them are tailor-made for dealing with the symptoms of stretch marks. Bio-Oil is one such product that can help you to cope with the symptoms as well as prevent stretch marks during pregnancy.
Bio-Oil is specialist skin care oil that can help to take care of new scars and at the same time improve the appearance of old scars. It helps to prevent the possibility of appearance of new stretch marks and helps to lighten the existing ones. It can also help you to deal with uneven skin tone in both light and dark skin types. It helps the skin to retain the moisture and helps to smoothen and tone the wrinkled skin. Due to its Purcelline Oil content it gets absorbed in the skin very easily.
Have a Healthy Diet
During pregnancy your diet should consist of healthy foods which are rich in various nutrients. Such foods include fruits and vegetables, foods that are made using whole grains, dairy products and protein rich foods like chicken, fish and beans. You must also take the prenatal vitamins that are prescribed by your doctor on day-to-day basis. Always ensure that you avoid eating foods that are high in sugar. Discuss your diet with your doctor and include all the healthy foods that are recommended to you by him or her. Avoid eating fried and unhealthy food stuffs at all costs.
Exercise Regularly
Practice simple exercises like walking while you are pregnant. Walking daily for 40 minutes can give good exercise to your pregnant body. Exercising regularly makes the body more flexible. It helps the body to adjust with the physical and hormonal changes that are taking place during pregnancy very easily.
Although, various post-pregnancy treatments are available, it is better to take care of the skin using above mentioned simple remedies. Always consult your doctor before using any product or undergoing any beauty treatment to be on a safer side. Have a healthy, safe and a beautiful pregnancy!