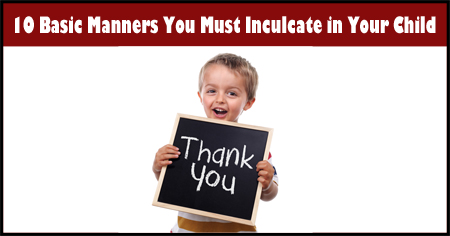 Good manners and discipline cannot be cultivated in children overnight. So, they must be encouraged to follow such manners right from early childhood. Let us take a look at the 10 basic manners which you must teach your kids without fail.
Manners are something people judge us by. It is really important for kids to learn manners at the youngest possible age. It is difficult teaching manners to kids, especially because they do not like to be bound by specific systems. If your child
misbehaves
at home when they are young, they are going to carry that behaviour throughout their lives.Parents should strive to imbibe in the children some
basic manners
without which they will be categorized as misbehaved by their teachers to their bosses later on. First step is for the parents to know the basic rules and practice them. Kids soak in whatever parents practice. If they see their parents behaving in a particular way, good or bad, they start imitating that. Here are some basic manners you must inculcate in your children.
1. Using Polite Words
It is more important than you think for your child to learn some polite words. The usual "please", "thank you", "no, thank you" and "excuse me". They should be taught this from their vey childhood, so that it comes naturally to them without you having to prod them all the time. People are pleased when children display these etiquettes and judge them as polite, behaved kids.
2. Avoid Disturbing Others
Kids often barge in on people even when they are unwanted. If someone comes to the house on some important business, they badger them till they are scolded out of the room. Children must be taught that they are not to disturb anyone if they are busy talking to someone.
3. Introduce Themselves
Many do not feel the need to introduce themselves. They often ignore the looks that people shoot them for this. It is important that one introduces themselves, name, occupation, etc. It is a small thing but makes all the difference.
4. Responding Promptly
When someone asks your child a question, you must train them to answer it. Children are often lost in their own worlds and ignore the questions of adults. The people concerned might feel bad. So it is important they respond to questions.
5. Table Manners
This one's extremely important. We judge people based on their
table manners
. Those who talk loudly or eat noisily, choosing their food and not caring about others are looked down upon. Teach your kid how to behave at the table, to pass around food and not to use cell phones at the table.
6. Manners at a Theatre
There are many kids who create such a chaos when their parents take them to the theatre. Either they are crying or talking loudly, throwing popcorn or annoying strangers by moving up and down the aisle. People detest these. Teach your kid to keep quiet when in a theatre and sit firmly on their seats.
7. Thanking Everyone
This one needs a separate mention as most kids do not ever say thank you. It is strange because as a kid the first thing we are taught is to say thank you. It has become involuntary now. You should teach your kids the same. To thank everyone for things they do.
8. Shake Hands
A good handshake automatically makes a good impression. Therefore you must teach kids this one.
9. No Dirty Words
Kids hear so much of these they automatically adopt them. You should make conscious efforts to teach them that they are bad and should never be used. The most important thing is that you must never use such
bad words
in front of them.
10. Limited Use of Gadgets
It has become an issue since the dawn of technology. Kids have their eyes and minds glued to their screens and hardly behave decently with people. You must tell them when to lift up their eyes, keep away their gadgets and behave.Once they learn these basic manners, they would not turn into brats. They will slowly start to imbibe
good manners
too and behave themselves. Their manners will speak for them. They will be accepted and liked everywhere.Meta DescriptionIt is not easy to transform an ill-mannered child into a well-behaved child overnight. Inculcating good manners is a gradual process. Such manners should be taught to children right from early childhood. Learn about 10 basic manners you must teach your children before they grow-up.
How to inculcate good manners in children? Which manners should be always remembered by children? Is it difficult to teach good manners to children? Discuss here.