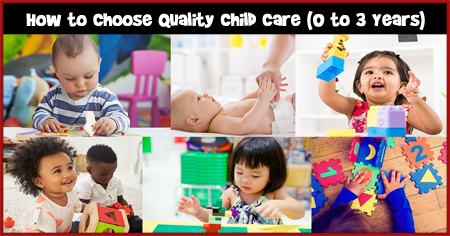 Choosing a quality child care for children is the greatest responsibility of parents. Here is how parents can find a quality child care of their little one who is between 0 to 3 years of age.

Mothers cannot be present everywhere and at every place. In today's scenario – mothers often have to go to work. They are unable to look after their children. In the absence of parents, a quality and reputed child care is necessary to look after the baby.
What is a Child Care Facility?
A child care facility is run by a person who looks after the infant or child in the absence or unavailability of the parents. They look after the child and provide food, water and various necessities. They charge a certain amount of money and in many cases, such centres are run by employers themselves who know that the married staff members need a reliable and trustworthy facility to look after the infants while
they are working
.
Child Care for Infants
There are many benefits of opting for a child care for infants. Even between the ages of zero to three, children need a child care centre. In many cases, new mothers are unable to look after their kids. A child care facility is a place where kids can be looked after, right from the minute they are dropped there to the time they leave the place. Continuous care giving is required for toddlers between the ages of zero to three.
Below are a few tips to select a
quality child care facility
for your baby:
Safety and Quick Responsiveness
A high quality child care centre should be chosen with preference being given to safety and responsiveness of the caregiver. The person looking after the kids should be well-trained and caring. The establishment should be in a safe area away from the traffic, noise and chaotic atmosphere. Children should be given freedom however their movements should be closely monitored by an individual. In case of any problem, both sides should be able to contact each other easily. First-aid and basic medical facilities should be present.
Good Environment
There are several questions you can ask the child care centre before selection. You should definitely visit the place to check if they provide a healthy and relaxed environment for babies to grow up in. The atmosphere should be safe, secure and without much distractions. The person looking after the infants should have experience in handling babies. The surroundings should be clean and hygienic and the owner should ideally have a great love for babies. Choose someone who is affectionate, warm and loving and immediately cares if the baby starts crying. Such ideal
day care centres
are not found everywhere hence choose carefully before proceeding.
Things to Look for While Choosing Quality Child Care
The day care premise should be accessible and easy to locate.


Outsiders access should be recorded and preferably limited


A healthy and quiet place which is welcoming to both mother and baby
Here are Few Basic Questions to Ask before Selecting a Child Care Facility
Is the caregiver qualified? Qualifications of a caregiver are important. The centre should have its license and the caregiver should have knowledge about feeding and providing for children. In case, they child falls sick, he or she should immediately offer medical aid. The person should be experienced in handling infants.
How Many Babies are Being Looked After?
The care giving organization should respect the individuality of each child. Mothers should know how many babies he or she will be handling at once. If there are too many toddlers at once, individual attention may not be possible. So, keep this point in mind before selecting a quality child care.
What is the Routine and Fees?
Parents should check to see what their
daily routine
is like. Does your kid have additional needs and are they willing to focus on those aspects? Ask for all clarifications regarding fees and make it clear that you can consult them anytime.
All in all, a quality child care centre should be affordable and offer a positive environment for toddlers and infants to grow. It should be well-reputed and offer emergency services. It should be run by a happy and caring person who loves kids and the centre should assist in the overall development of the infant. The place should have cameras and you should be able to visit and check in any time of the day. Mothers need to be the most satisfied at the end of the day.
How to choose the right child care facility for children? What safety features should parents look for in a child care facility? What kind of child care facilities should parents avoid? Discuss here.