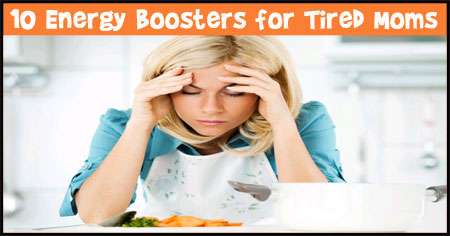 Moms have to carry out many responsibilities and hence they get tried easily. Therefore, to keep the energy levels up, they need to perform some energy boosting activities. Here are top 10 energy boosters for tired moms.
Motherhood is not an easy job and there are chances that you will be too tired to move a finger during crucial times. However, if you use some of the top energy boosters listed below you are sure to get a fresh wave of energy.

1. Keep Exercising
While you may think that going to the gym is the last thing you want to do right but you cannot deny the fact that exercise does give you a fresh spurt of energy.
Exercising
will not only inject strength in your weakened muscles it will also generate positive hormone circulation in your body. As a result you will be much better equipped to deal with the challenges of
motherhood
.

2. Listen to Music
Music has been scientifically proven to have a definite positive effect on the mind. When you are stuck in a never ending and boring chore like dicing the vegetables or cleaning up after dinner, it is natural for you to feel exhausted after a long hard day. However, a burst of upbeat tracks can actually goad you into moving faster and actually make you feel more active and happy.

3. Get Some Fresh Air
No perfume in the world can match the vitality and freshness of good old clean air. If you are tired from working in the office all day and then dealing with your
kid's homework
then sitting at home with closed windows is not going to help you. Open the windows and let the breeze come in and you feel the invigorating effect of fresh and natural air on your mind and body.

4. Keep Chewing Gum
Chewing gum is a cheat trick to motivate yourself in becoming more engaged when all you want to do is fall asleep. The regular jaw movements that happen when you are chewing gum mean that the brain is forced to stay active and as a result the body is also motivated to hike up its energy levels. Put a couple of chewing gums in your purse and use them when necessary.

5. Do Not Sit in One Place
If you keep sitting in one place when you are tired then you will be sending your body into the inertia of rest. It will progressively become more difficult for you to move. If you realize that the need of the hour is to be active and fight the urge to sit down for long periods of time. It is necessary that you keep moving in order to feel more energetic.

6. Choose Your Snacks Wisely
It is a commonly known fact that carbohydrates give you an instant burst of energy. However, if you snack on a chocolate bar everyday it is not going to help you in become healthy. Choose healthy muesli, fresh fruit etc to snack on. These are complex carbohydrates which give the body an instant energy boost.

7. Keep Yourself Hydrated
As and when you feel tired you will find that
water
is your best friend. In fact fresh cold water is much better in chasing the tiredness away in a healthy way. The distinct advantage is that you tend to consume lesser calories in your quest for energy. The next time you feel very tired just have a glass of water and see!

8. Consider Multivitamins
Have you thought about the fact that you might actually be suffering from a vitamin deficiency? Occasional tiredness is acceptable but feeling tired all the time means that there is some deficiency inside the body. Get a thorough checkup done and take the recommended multivitamins which your doctor will prescribe. You will feel much better.

9. Motivate Yourself
Give yourself a little pep talk to chase away your lack of energy. The mind has a lot of power and use the power of your mind to help your body fulfill the demands of parenting. Create little motivational speeches for yourself and keep saying them to yourself whenever you feel extremely tired.
10. Refresh Your Body
Do something that can help you relax and refresh your body!! You can take a long bubble bath or ask your partner to massage you with your body lotion. As a short cut tip you can also light some perfumed candles and let the magic of fragrance chase away your tiredness!!
The responsibility of raising kids and family mainly lies on the shoulders of moms. So it is very important for them to stay active all the time. So follow the above tips and shun away the tiredness caused due to the day-to-day activities.
Why do moms get tired easily? How should moms take care of themselves? Which are the best energy boosters for tired moms? Discuss here.