Top 10 Domestic Workouts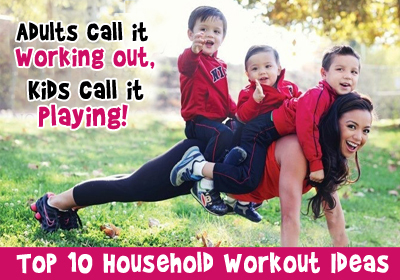 You don't have to sweat it out in a gym in order to stay fit. Simple daily household chores can do the trick. Read on to know which household chores can double up as workouts for busy people with no time for a fancy workout!

Women who stay fit by working around the house not only lose as much weight as women in aerobic classes, but are also better able to keep the weight off for a longer period. Household chores are a cost-effective fitness program for the busy moms! All you need to do is try and accumulate at least 30 minutes of physical activity through the day. And it's just as easy said as done!


Washing your undergarments yourself is excellent for finger joints. You can kiss arthritis in your finger joints goodbye. Make sure you use a mild soap though, and follow up by applying a hand lotion, to avoid drying your hands.


Use a mobile phone or invest in a cordless phone to chat with your friends when at home. Instead of sitting or lying down while sharing that daily dose of gossip, walk around while chatting. Can you think of a more enjoyable way to burn calories?



Instead of asking the servant or office peon to fetch you a glass of water, get up and get it yourself. Refill your glass of water every hour. This helps boost circulation, and will reduce the risk of you developing varicose veins.


Don't just flick the channel during commercial breaks. Get up and do something: change the bedcover, tidy up your cupboard shelves or just walk around.


When you drive down somewhere, park your car in a far-off spot so you walk more to reach your destination. After all, walking is one of the top 10 exercises for weight loss!


Stand up while riding the train or bus, instead of sitting. An average person burns around 140 calories an hour while standing, as opposed to 100 calories an hour while sitting. That may not seem like a huge difference outright, but those additional calories add up to quite a bit, over a period of time. So the next time you are tempted to grab that empty seat in a bus or train, resist, especially if you are in a sedentary job, and have been seated all day anyway.


Use the stairs instead of the elevator or escalator, wherever possible. It makes a world of difference to your fitness level. It strengthens the heart, and is a great workout for your hips, legs and butt.


Get off the bus or train a few stops early and walk the rest of the way to your destination. Try and get in at least 20 minutes of walk time in a day. Two short 10-minute walks everyday add up to 2 hours, 20 minutes of walking time in a week. And if you are not getting any exercise at all, this is a great way to compensate. Walk your way to good health! Short periods of exercise can be just as effective as one long workout, for certain basic health benefits.


It never fails to amaze me as to why someone would spend big bucks to join a gym, and then not do a spot of work at home. Housework is the best exercise, and if you don't find time for exercise, then you must try and do some work around the house. Don't depend upon your household helper to make your bed every day; do it yourself.


The next time you're standing in line, or waiting for someone, take this opportunity to work your butt. Tighten your butt muscles, hold to the count of ten, and slowly release. Repeat 6 to 10 times. Make sure you're wearing a skirt, or that your butt is concealed. You don't want people staring at your twitching butt!


Okay, here's a bonus 11th tip! What's the best domestic exercise of them all? Sit down on your haunches and sweep the floor. That's right! This excellent 'workout' will tighten and strengthen your entire lower body, including pelvic muscles, with the result that if you have been sweeping floors regularly, your labour will be a lot less painful, and you will recover faster. So if you are planning a pregnancy sometime soon, pick up the mop and start sweeping!

Are you too busy to join a gym or fitness class? What exercises can you do at home to lose weight? What household chores do you think can double up as workouts to help you stay fit? Discuss here.
You may also be interested in: