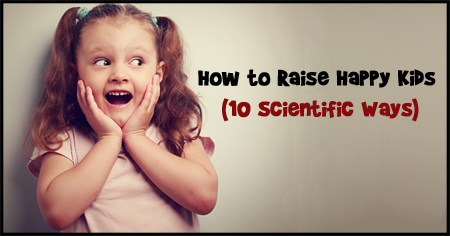 Happy kids are confident and full of life. However, not every parent knows the secret to raising happy and contented kids. Here are ten scientific ways to raise happy kids. Now no more reason to complain because these ten tips will teach you the important secrets of parenting.

What would you do if you learned that there scientifically recognized tips which can take away some of your parenting problems and actually help you raise a happy child? Wouldn't you be over the moon? Let's take a look at these following ideas which will definitely help you.
Height Does Not Make a Difference
Kids will be kids no matter how tall they get. So, don't be fooled by older kids and think that you have no reason to worry because kids will always be the same. Nobody understands them better than a parent.
Part of Growing-Up
Grown up kids are also going through a developmental phase. At the outset, it may seem like they mean trouble, but soften up a bit and you will realize that all children need love and affection no matter how big or small they are.
The Shy Ones Need Your Support
A shy kid needs your help and support to come out of his or her shell. Shy kids are not very outgoing and so they may not have many friends. Try to get them out of their comfort zone so they don't develop anxiety disorders or similar issues.
Slow Down
By now we all know that adults have fast paced lives which may or may not be understood by children. We think fast and move fast however children have trouble understanding the reason for your swiftness. In order to step down to their level, we need to slow down and be relaxed whenever we are with them.
Do Not be Distracted by Technology
Have you ever been so busy looking at your phone or iPad leaving your kids alone while they are blabbering something or talking about something? It's a familiar situation which leads to your kids complaining – 'Mom are you listening?' Your Whatsapp or Facebook message can wait but your kid needs your total attention so don't get distracted by devices.
Teenagers Throw Tantrums Too
As your child grows older and enters the teenage phase, there's so much more reason to worry and get cautious. It's the time when they feel like becoming independent, hence understand that they too can throw
tantrums
. It is important to be a good friend to your teenaged kid in order to build their trust and faith in you.
Foster Attachment
It's true that as kids get older, they start to get busy with their own lives. Hence, one must make them understand that they can always count on you and you will always be there for them no matter how busy his or your life can get. Build a warm relationship based on mutual love, affection and understanding.
Do Not Yell
Yelling does nothing except making the situation worse or even more complicated. Be polite and kind to your children especially when they trouble you. By not
yelling
or screaming, you can put across your point in a gentle manner. Being over strict or harsh can have negative consequences. At the same time, don't pamper endlessly.
Dads – Be Involved
This point needs no extra emphasis. Dads should also be involved in the
parenting
process. Just because you are the father and you need to earn money doesn't mean your son or daughter does not need you. Just like mother, a father is also very important to the family. Hence, dads should also get involved without wasting a minute!
Be a Happy Parent First
Last but not the least, if you want to
raise a happy child>
, you should learn to be an optimistic and happy go lucky person yourself. By doing so, you are teaching your kids to be the same. Learn to appreciate life and become a happy parent so your kids know the value and importance of being cheerful.
Thus, the above steps will ensure that you raise happy go lucky kids. Scientifically backed points can help in the parenting process however nobody's life is perfect or smooth sailing. There will always be hiccups however when you learn the art and science of raising happy kids you won't feel bogged down or weighed down endlessly.
What are the scientific ways to raise happy kids? Why is it necessary to build happy and cheerful environment at home? How can yelling and screaming negatively affect children? Discuss here.