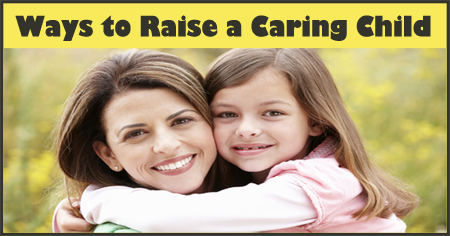 Do you want your child to be a caring person? Here are a few ways to help your child become a caring individual.

It is important to raise caring children as caring individuals. Children's minds are fresh and they can be moulded into caring persons very easily. When children are moulded from a young age, they learn better. Being a caring individual will help your child lead a good life and will help her to become sensitive to the problems of others as well.
Tips for Raising a Caring Child

Here are few ways which you can follow to
raise a caring child
.
Inculcate a Sense of Care for Animals

Tell children the need to take care of animals. Animals should be protected and nurtured. It is okay if your child does not want to adopt an animal or keep a pet but he or she should be taught to never harm or injure animals. Animals are a part of creation and we must do our best to take care of them.
Teach to be Sensitive to the Poor
Children should be taught to respect the poor. Tell children that poor people also have dignity. Teach your child to behave properly with the servants who come home. Children should not make fun of servants or other poor people. They should treat all people nicely and equally.
Teach to Respect Elders
Teach children to respect elders including
grandparents
, mother and father. Teach children to stand up in buses and trains and offer a seat if they see an elderly man or woman, pregnant woman, etc. Teach kids to never shout back or back -answer the elders. Teach them to be caring and loving towards old people.
Provide Encouragement to Protect Environment
Children should be taught to protect the environment and save nature. Teach them the importance of protecting and caring for environment. Involve them in gardening activities and encourage them to plant more trees. Teach them to not pollute the environment.
Teach them the Value of Money
Teach children to spend money on good things only. Money should be spent properly and money should be respected. Help children understand the value of money. Caution them against spending money for wrong purposes.
Teach them the Meaning of Love and Affection
Teach children to be loving and affectionate with all. Teach them to never fight with others or hurt them. Tell them to avoid violence. Ask children to watch good television shows and cartoons instead of those depicting violence or
aggression
. Avoid providing your child video games which portray violence.
Caring for Handicapped People
Teach your child to be caring and sensitive towards handicapped and disabled persons. Teach them to never make fun of persons with disability. Caring for persons with physical and mental disability will help your child become more sensitive and a
better human being
. Encourage your child to visit old-age homes, homes for handicapped, etc and spend time with people there.
Maintaining Cleanliness
Encourage children to develop good hygiene and maintain cleanliness. Teach them to never litter in their surroundings. Cleanliness begins at home so tell them to keep the house and rooms neat and tidy. Avoid littering on roads and always throw waste materials in dust-bin only.
Teach them to Be Kind to All
Teach children to be kind to all they meet. Encourage them to practice kindness and love with all human beings. Teach them to help those who are suffering. Teach them to respect mother, father, siblings, etc. Encourage kids to share and take part in charitable activities.
Thus, children can be taught to be caring. Being a caring individual begins at home. Children first learn from parents so it is important for parents to be caring as well.
We need more caring individuals in today's world. The world will definitely become a better place if children as well as adults become good, caring individuals.
How to inculcate a sense of love and care in children? What are the ways to teach children to care for others? Why is it important to raise children into caring individuals? Discuss here.