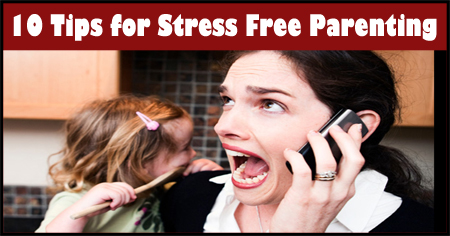 Your stress can affect your children negatively. So, it is essential for you to manage it effectively to avoid its repercussions on your children. Let us take a look at the top 10 tips for stress free parenting.

Stress can be a major deterrent to good parenting. As we all know, stress reduces one's energy and makes a person feel low. Stress makes you feel tired and upset. Stress can lead to negative thinking and exhaustion. Stressed parents often react angrily or get irritated while talking to children. Find out ten tips for stress free
parenting
so you feel relaxed.

1. Find a Little Quality Time for Yourself
Women in India often live with their in-laws. So even when the children are not at home, she has to attend to the needs of in-laws or do some other work. Finding time alone can be very difficult and even impossible for some people. It is very important to find at least a little time alone. It will help you to sort out your thoughts.

2. Practise Yoga and Deep Breathing
Practise yoga and deep breathing exercises to de-stress. You can ask your kids also to join you. Yoga calms the mind and reduces tension. Your body becomes relaxed and flexible. It also benefits kids. Kids are able to concentrate better. Apart from yoga, any type of exercise improves blood circulation and releases positive hormones.

3. Reduce Television Usage
The television is not called 'idiot box' for no reason. Constant sound from the TV sets can be a major source of irritation. Keeping the television constantly switched on leads to less interaction between members of the
family
. Instead of constantly keeping the television switched on, ensure that there is some quiet time at home.

4. Sleep More
As we all know, lack of sleep also causes stress. The body needs to relax after a hard day's work. According to science, our body needs at least 8 hours of sleep every day. Try to get adequate sleep even when there is a lot of work. Sleep re-energizes and rejuvenates the cells in the body so we can function better and feel better.

5. Listen to Your Kids
It is necessary to listen to kids. Many a time, parents do not listen to the child's point of view which can lead to unwanted
fights
. We should always listen to what the child has to say. Parents should not distrust or doubt the kids for no reason at all.

6. Find Time for Your Own Hobbies and Passions
Women often put family first leaving no time for their activities. Although, it is good to make family a priority, taking out some time to pursue your own hobbies is also a major stress buster. Simple activities such as candle-making, oil painting and gardening can help you to relax and enjoy yourself.

7. Use Gadgets
If you are a working woman and always worried about your children, then you can provide them a mobile phone if they are old enough to handle it. In today's world, having a
mobile phone
is often a necessity. It helps you to keep track of your children's whereabouts. You can also make use of other gadgets like CCTV camera if you leave your children with a maid. Installing such cameras at home can help you to be ensured that your children are safe.

8. Hire a Maid
Many women are so piled up with work. Sometimes they have to do all the household work and then go to the office also. Do not be hesitant to hire a maid to reduce your work. You can hire someone for cooking, cleaning and household chores. Maids are easily available and it is not so difficult to hire someone who can help you out.
9. Share Problems with Your Spouse
It is important to share problems and talk openly with your spouse. If you are facing some problem with your children, then you should definitely talk with your spouse. He or she has the right to know. They will help you to sort out the problem.
10. Go out Occasionally

Eating out once in a while, reduces the amount of work at home. It also helps to relax and enjoy with the family. Find a cozy restaurant near your place and visit there once in a while. Many restaurants have a relaxed ambience where you can rest and chat while waiting for your order. You can also visit spas and cafes to unwind and de-stress occasionally. Watching a movie followed by lunch or dinner is a nice way to enjoy Sundays.
Apart from all this, you can reduce stress by always knowing what's happening in your child's life. Be aware of the kind of friends your child is making and talk to your kid's teachers once in a while. Stay aware, calm and relaxed.
How should parents mange their day-to-day stress? Which are effective stress management techniques for parents? How can parents avoid taking out their stress on children? Discuss here.