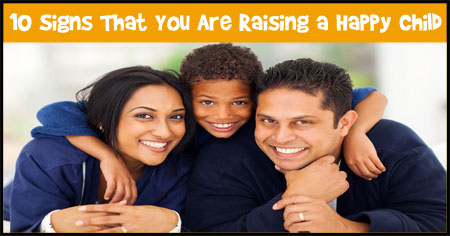 Mostly, children who are happy and well balanced can do well in all walks of life. Read on to learn about the 10 signs that you are raising a happy child.

The word "parent" might be a singular term, but is a compilation of many other words such as unconditional love, trust, respect, support and the like. Being a parent requires a lot of hard work, mental strength, stability and patience. If you are raising a child, you need to make sure that you are doing it right and not spoiling them. Here are ten signs that prove that you are
raising a happy child
.
1. Throws Tantrums Rarely
Toddlers often tend to throw
temper tantrums
both at home and in public. They want what they want when they want and if things do not go their way, they throw a fit which is not only hard for you to handle, but also embarrassing if in public. This is the result of over-indulgence. However, if your child does not throw tantrums frequently and has a good sense of reasoning, you are on the right track of parenting.
2. Is Satisfied With What He or She Has
Spoiled children are never satisfied with what they have. They often want something that somebody else has and throw tantrums to get it. But a happy child is happy with what they possess. Such children do not want everything under the sun.
3. Is Very Helpful
It is unlikely for a child to like cleaning up, but once they have passed their toddler years, they should help with smaller tasks like organizing his or her toys and belongings. If your child is willing to help you in such ways, you are raising him or her right.
4. Respects Elders
Unlike spoiled children, a happy child knows to delineate between his or her friends and adults. He or she treats them with respect, listens to them and does not expect both his or her peers and adults to listen to him or her at the same time.
5. Does Not Try to Seek Attention
Most toddlers love attention. They want the world to be centred on them. However, as a parent, you might have to attend to other needs as well. A happy child is understanding and will not try to seek undue attention that kids often do, thereby embarrassing you in public. He or she will keep himself or herself occupied in the meantime.
6. Is Willing to Share
Sharing can be difficult for babies. But a happy child is willing to share his or her toys, snacks and such with other people or his or her
siblings
and friends. With proper guidance and
parenting
this concept can be mastered by children.
7. He or She Always Listens to You
If you are raising your child right, he or she will always listen to what you say or ask him or her to do. Unlike spoiled children, you do not have to beg your child to do something or complete a certain task.
8. Is Not Ignorant or Arrogant
A happy child is never ignorant. He or she will never ignore you and always pay attention to what you have to say. If you are raising your child right, he or she will not be arrogant and not consider himself to be right all the time. He will be open to suggestions and will always be attentive whenever he or she is being taught something.
9. Is Not in a Constant Need for a Companion
Unlike a spoiled child, a happy child will not unnecessarily bother you with his or her need for a parent or a playmate. They are willing to play alone for a stretch of time and not in need for constant attention as they can handle themselves.
10. You Do Not Need to Bribe Him or Her
Parents often have to
bribe children
with money, treats or toys to make them do their routine tasks. However, a healthy child will be willing to obey you without you having to bribe him or her.
It is said that to be a parent of a child a person has to be different human being all together and a feeling of completeness that cannot be replaced. Raising a child can tricky, but is worth it, because nothing spells "happiness" like the word "children". Children are the joys of a parent's life and a happy child consummates your success in parenthood.
How to raise happy and well balanced children? Why is it necessary to always think about the happiness of child as a priority? Is fulfilling the material needs of children the only way to make them happy? Discuss here.