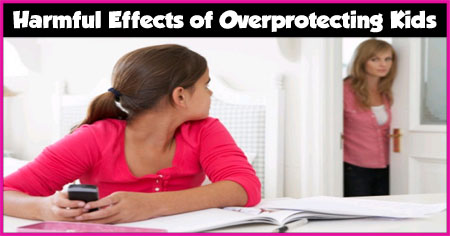 Parental involvement is necessary but parents should learn to draw a line between being involved and overprotective. Read on to learn more about the ill effects of overprotecting kids.

For most parents protecting their children is a natural urge and a biological instinct. The protective nature of parents is meant to keep their children away from harm's way. However, it is when parents cross the fine line between protection and
overprotection
that they start doing more harm than good. There are several effects of overprotecting your kids which are explained in the article below.
Hampered Self Confidence
Kids are naturally born vulnerable and dependant and it is when they grow older that their sense (and need for) independence grows. Children need to learn to face some of life's challenges on their own otherwise they end up having low confidence in their abilities. If parents constantly engage in shielding or protective acts then kids never get to make their own
mistakes
and learn from them. This is something that gradually makes them unprepared for life.
False Sense of Control
Overprotective parents generally have bloated expectations about the control that they hold over their children. Many overprotective parents believe that they can keep out their kids from harm's way and their kids are always going to listen to their well meant advice. On the contrary children of overprotective parents turn rebellious sooner and as they grow older they shatter the mirage of control that their parents had. This is damaging for the parent-child relationship and often hurts the parent emotionally.
Increased tendency for Risk Taking
When children of overprotective parents grow up to be teenagers they often try spending more and more time away from home in order to escape the constraints imposed on them. Children who are overprotected during childhood are drawn to forbidden activities with great intensity as they are mentally repressed. They may be the first ones to try out unprotected sex, substance abuse and alcohol. These acts are a way of rebellion against the years of repression and over shelter that they have been subjected to.
Low Self Esteem
Over protective parents often hamper the development of self esteem in children as the child is unable to accomplish tasks by himself or herself without
parental intervention
. This inability to live up to the standards set by their peers leads to bruised egos and poor self esteem. A child with poor self esteem often grows up to become an adult with poor self esteem who consequently under achieves in life.
Deceiving and Lying
Parents who are overprotective about their kids are mostly too involved in the lives of their children. They typically want to know every little detail and each little incident about their children's lives. All the friends of their children are subjected to strict scrutiny and as these kids grow older their personal life too gets scrutinized.
Children often feel stifled under this excessive
involvement
and consequently sharpen their skills of lying and deception in order to dodge questions. Such kids will start off giving evasive replies and indulge in white lies before moving on to carefully constructed complicated layers of falsehood. Psychiatrists are of the opinion that kids who have developed the habit of lying from early childhood become expert liars as they grow up.
Ruptured Relations
Children of
overprotective parents
often grow more and more emotionally distant from their parents as they grow older. This happens because kids generally feel that their over-involved parents will try and interfere in every decision of their lives. Such kids are also the first ones to move away from home. The bond between overprotective parents and their kids slowly weakens with time as both fail to respect each other's priorities.
If you are a parent and are reading this then this guide will help you avoid making such mistakes as overprotection and over involvement.

How does being an overprotective parent affect kids? Why is it necessary to avoid overprotecting kids? What are ways to avoid being an overprotective parent? Discuss here.