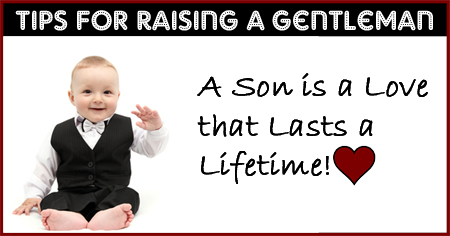 Instilling good values and virtues in a boy child is essential for raising him as a gentleman. Read on to find tips for raising a gentleman.
Somewhere amid video games and untidy sneakers, your boy grows up and your parenting determines whether he grows into a kind and compassionate gentleman or otherwise. You can make sure that your actions and reactions encourage him to adopt acts of compassion and maturity towards others so as to prepare him for the real world. Good parenting helps him to learn how to behave at a formal dinner or when he settles down.
By following a set of tips you can guide your child while he grows-up from a boy to a gentleman and watch him excel in life.
Be a Role Model
Boys always need a role model and hence, you and your partner should acquire a habit of behaving how you want your sons to behave. Children generally learn to behave themselves from their primary caregivers, i.e., parents making them the first role model for their children.
Leading by example may be easier said than done but when your kids see you donating to a charity or being compassionate to other people that will influence them in a huge way. Similarly, by adopting the habit of saying "please" and "thank you" in front of your children, you can inculcate in them the qualities of respect and adopting
good mannerisms.
Kids, especially boys, need someone in their life they can look up to and learn from. Not only is it essential to be a good example but it is important to make little acts of compassion a habit for them.
Practice at Home
It is rightfully said that charity begins at home. By practicing
table manners
and chivalry at home such as complimenting the food or burping quietly with mouth closed you can teach your son what to do when he is on his own. It is important that you teach your child skills to build and manage relationships in his life such as family,
teachers
and friends. Start by handing him small tasks, and reward him with either compliments or pocket money.
You can teach him how to take care of his belongings and explain how adopting good mannerisms and habits like
good hygiene
can help him in his day to day life. In turn, this develops self confidence in your child that will prepare himself for all situations.
Encourage Empathy
To build self respect and
respect for others
in your children, it is essential to practice compassion. If you teach them not to bully others and be kind to fellow classmates, it is more likely they will grow up into a gentleman. Teach your kid to stand up for his friends and being helpful of others. You can also teach him to work on perspective taking, the quality of considering another's view before own.
Childhood is an important stage that should not be ignored by parents. To teach, you can practice reading together and asking how he feels and what does he feel the character in the story might be experiencing. Engaging him in a conversation about feelings gets him in a habit of thinking about other's feelings before his. By being all ears for him, you teach him to make an effort to listen always. He can show care by lending an ear and they can adopt this quality to be true gentleman.
Teach How to Treat Individuals
You must teach your child how he must treat each and every individual. You must teach him how to respect elders, senior citizens and teachers. For example, you must teach your child if he is travelling in a public transport he must always offer seat to senior citizens, handicaps or pregnant women when bus is crowded and there is no place to sit. At the same time he must know how to talk to and behave with girls. You must make you child aware how to behave in front of guests. It is also essential to teach him how he should take care of his younger siblings.
You want your kids to walk into a room with confidence and maintain strong eye contact. This comes with adopting good mannerisms and practicing self respect. Every child is different and this should be kept in mind as well. But by acknowledging their actions and telling them you are proud of them, it will help them acquire good ethics, evolving into a gentleman at later stages of life.
How to inculcate good behaviour in a boy child? How to inculcate good habits and manners in a boy child? Which qualities should be inculcated in a boy child to raise him as a gentleman? Discuss here.