Raising Children Topics..
What parents are currently discussing?
Small Town Life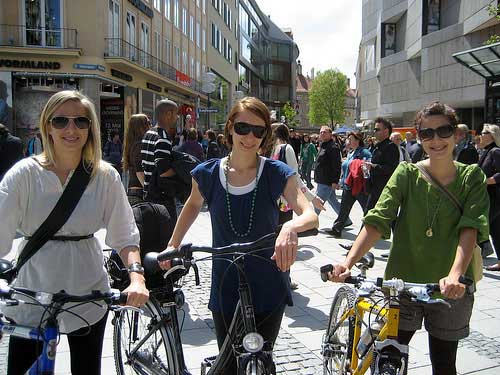 Although for many people living in small towns can be a drag, those who have adjusted well to life in such towns wouldn't leave it for the world.

People leave their small hometowns for various reasons: lack of employment opportunities, lack of good education institutions or lack of the buzz found in large cities. Here are just some of the ways in which life in small towns can be far more enjoyable, fulfilling and richer than life in large cities.

Friendships

The friendships you can form in small towns are truly deep and everlasting. These are not friendships based on social status or bank balance, but are based on the character and nature of the person. Friends are friends in the real sense of the term, and are people you can bank on in times of need. True, you have friends in large cities too, but often friends don't have time for each other, and although they would love to be there for each other in times of need, it might not always be possible, especially when they have numerous other work and family obligations.

Picture going for a wedding in a small town. Chances are that the family hosting the wedding will have no problem accommodating so many guests, because their close friends will be more than willing to put up the wedding party in their homes. When Janhavi was getting married in Dehra Dun, her neighbours too put lights around their home in celebration of the wedding, because it was almost as if their own daughter was getting married! This is what true friendship is all about. In larger cities next-door neighbours may not even know when which family member is getting married.

Housing

Housing is far cheaper in a small town than it is in a large city. The same amount of money can buy you a huge, spacious place in a small town, while it will buy you a one-bedroom tiny flat in a city - which is fine for a young couple, but once you start a family and have children, it is much nicer if they grow up in a house with rooms to themselves.

Less Competitiveness

In the event that you would like to open up your own business, starting in a small town makes sense because there is a lot less competition. It is easy to establish yourself in a small town first, and then start expanding to larger cities. And if you ever decide to do something on your own, you can rest assured that your contacts in small towns will be far more helpful than contacts in your city. One of the prime reasons people leave small town is in search of opportunities elsewhere. If you live in a small town, be prepared for the fact that your child may want to get out of there as soon as possible unless he goes in for a profession that can be practiced with just as much success in a small town or enters business with you.

Less Stressful

Living in large cities in India amongst a multitude of relatives calls for unending social obligations, and it seems like you are constantly on the run. Life in smaller towns thus tends to be less stressful than life in metropolitans. Of course, everyone has to cope with stress, but in general life moves at a slower, more relaxed pace. This means less health complications, lower blood pressure levels, and general better physical and mental health.
You may also be interested in:
Recent comments (8 comments)
Name: Trying to help
Country: usa
austin,houston,dallas in texas
Name: Seperating mother seeking relocation
Country: USA
can you provide good cities within usa with good public schools to relocate with my 3 children.
Name: Rohit
Country: India
i always like to spend some days at my native place. it is a small town i go there and relaxed with my family for few days. it is a good idea to have a small change in our rushing life....
Name: naomi
Country: U.S.A.
after college i want to live in a small town in the new england area. sort of like gilmore girls. send your suggestions to shannyn9@gmail.co. [ i share it with my twin]
Name: Veena
Country: India
whoever said life in small towns was charming? people in villages are more vicious and gossip-minded than people in cities. they will take every oppportunity to pull you down. the author of this article is living in a fairy tale world.
Name: Julie Smith
Country: U.S.A.
this was a very good article and i enjoyed reading it. it shows me that living in a small town does have some positive sides. it also makes me want to raise my kids in a small town. julie smith,14 sidney, ne
Name: alan darby
Country: U.S.A.
can't go back why do stories of bygone good ole days always end with a wistful sigh? then a long pause, the conversation shifts and we return to soul numbing reality; working hard to achieve the "american dream." why do so many of us continue slogging through life half asleep? we have the wisdom of the past to rely on, let's use it. we can't go back, but we can make the future what we want it to be. day after day, we are offered new wisdom through experience. these day after days have been stacking up for generations, so we ought to have a well proven library of wisdom. are we awake enough to use it? what makes rural life and the good ole days so good? since we can't go back – what wisdom can we bring forward? a few hundred years ago we started a country. we did it differently than anyone else in history. our country was built by people who were self-sufficient, free and engaged together in the kind of life they believed in. when something threatened that life, they fought against it. there is an example and a lesson here. first, we must know what kind of life we want to fight for and second, we must be aware of what is happening around us. with the amount of information coming at us, it should be impossible to miss what is happening. but, it's hard to hear a heart beat in a noisy crowd. and that's the problem. we are not hearing our hearts or the past. lessons and examples are unheeded. the american dream has become about quick and easy. we have allowed life to become pudgy and soft with comfort and entertainment. avoiding discomfort and inconvenience is the highest goal. that is not enough. quick and easy does not allow for; deep relationship (too messy), cause driven adventure, passion, idealism, sacrifice, danger or inspiring glory. there are no good stories told about quick and easy. wake up, engage in your life. figure out who you are and what you want. share life with your neighbor. try the rural, small town approach. it made us what we are today. let's not let it fade away. rural life is not about geography, it is about the heart - alan darby
Name: bobby
Country: U.S.A.
growing up in a small town of 12,000 and now living in a town of 150,000 with my two sons i am spending thousands of dollars in court cost training to gain full custody of my sons to relocate back to a smaller town. i don't believe you get a lesser education in a small town. most of the people i know from college that had great gpa's were from smaller towns or schools that i went too. my sons both have development disabilities. and i have found in the small town of spearfish, sd that they have services for autism, adhd and are not in the dark about getting these kids on the right road. they need to feel the sense of community and being a part of something that a big town will never be able to offer. my nieces and nephew all graduated from a town in which their graduating class averaged 28 kids. they are all "professional" and make a great living in small, medium and large towns.



Back to Previous Page | More on Raising Children Index
How to discipline a child Video
Discussion Forum - Recent Posts
Is small town life better than life in the city? What are your reasons? Do you think relationships are more sincere in small towns?

view more >>
DISCUSSION FORUMS ON
Raising Children
Good Maid agency
I am looking for a good maid agency in Gurgaon. Please Suggest ... - shilpi mathur read >>

Raising Children
I agree with you. Teachers play a very big role in raising children. In fac ... - Rishabh R read >>

After school activities for Kids
" Hi Sowmya!
I completely agree with you! I enjoy many after school act ... - Gaurang Mishra read >>

Mother is the first teacher!
It is true that every parent wants their kids to be the best. Recently an e ... - Gaurang Mishra read >>