Raising Children Topics..
Creating a Playgroup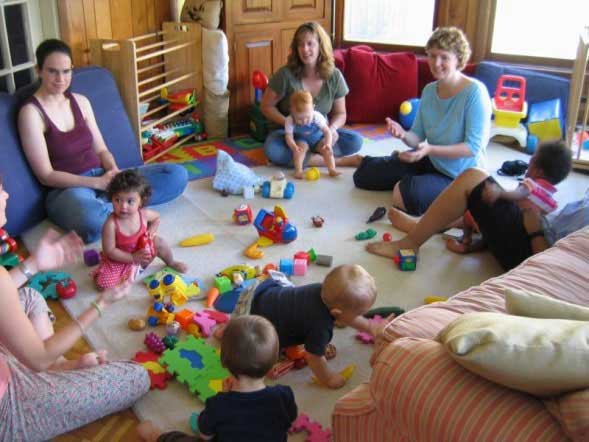 Not all children have ready access to a group of friends outside school. Help them make friends by forming playgroups. Here's how you can go about it.

Not all children have ready access to a group of friends outside school. Help them make friends by forming playgroups. Here's how you can go about it.

There are different kinds of playgroups. A playgroup may be a "drop-in" where a large number of unknown children join in. Sometimes parents form one with a few friends, which makes it an "exclusive" kind. The drop-in playgroups have the advantage of being larger with a more mixed crowd. But this could also be a cause of concern if you want your children to mix with children whose backgrounds you are familiar with. Some playgroups may be the sharing kind, which would involve more work than you are willing to put in when it is your turn. Others may be for kids only, and if you are looking to make friends of your own, this may not be the answer.

At times it may be better to start a group of your own, with two others. Before you know it the group will get larger. And as your children grow, there will be the addition of newer moms and younger children.

Some rules when starting a playgroup


Decide why you want a group. Is it to develop a network during school vacations to keep the kids busy, or to fill up empty Saturday mornings? Is it to meet new moms, to make new friends (for yourself and your child)?


Make an effort to find other mothers. Walk around with the children and meet other parents walking their kids. Pick up your children from school and get talking to other moms. Join online communities or a kitty.


If you are an older mother with a young child, would it matter if other moms are younger than you? You need to find likeminded mothers who would be most receptive. See that you are comfortable with the other mothers, and your children are comfortable with their kids. You do not have to become best friends, but they will form a part of your child's life and play a role in their social skills development. So it is important you like and trust them. You also need to see if their child rearing styles match with yours. Imagine leaving your boisterous child in a home where she is expected to be "seen and not heard".


Start small by inviting one or two mothers over with their children. This makes it easier for your child to get used to the mothers and the other children. It will give you the chance to see how your child settles in.


Decide on a place and time to meet. It could be the beach, a park or the mall. It may be only in the mornings, when older children are away at school.


Food needs to be predetermined. Keep track of vegetarians and non-vegetarians. Some mothers may insist on no-snacking-between-meals rules at home. Some children are fussy eaters. Some cannot handle spicy food. Lunch is often safest with daal-chawal and a vegetable (try doing a poll; most children are more willing to eat bhindi from the entire vegetable family).


Small children are often accompanied by ayahs. Some may not want maids hanging around their house, others find it easier to feed children if their ayahs are around to help. Ayah service could be rotated if there is lunch involved.


Dads are parents too so include them in the activities. Let them get to know each other. Dads are good for circuses, musical entertainments, Sunday morning football and picnics.
You may also be interested in:
#ContestAlert
(45214 views)
Back to Previous Page | More on Raising Children Index
Discussion Forum - Recent Posts
Do you know how to create a playgroup? Do you know how this can help your child? Do you know of any playgroups in your area?

view more >>
DISCUSSION FORUMS ON
Articles
RE:Lessons From Children
hello editor,
sometimes its right, and sometimes its wrong also, childre ... - anudas read >>

RE:Lessons From Children
hello editor,
the adult definitely learn lots of things from kids, and n ... - ajinkya read >>

RE:Lessons From Children
hello editor,
kids are very innocent and they dont know who is smart per ... - niraja read >>

RE:Lessons From Children
hello editor,
sometimes its right to say we adult learn from childrens a ... - umesh read >>