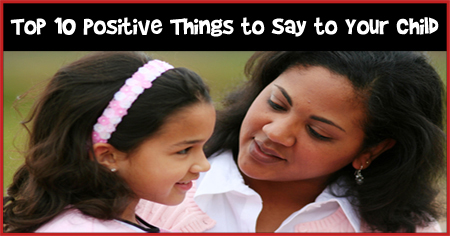 Saying positive things to children is a must to develop positive attitude in them. Read on to learn about top 10 positive things to say to your child.

For parents the easiest thing to say is 'No' and this they need to say plenty of time daily. Simultaneously, you have to make sure that your child does not find negativity at higher place than positivity.
All of us know that
communication
is the most important skill that a child should have in order to get ahead of others in life. But one thing that most parents do not realize is that they play a very large role when it comes to nurturing and developing this skill. A child starts learning things as soon as she develops senses and parents are the first and most important ones with whom the child interacts and learns.
Parents should understand the importance of
effective conversation
and this is one of the best way to create long lasting and meaningful relationship with your children. So, you should pay attention to what you say, how you say and when you say. Remember, your words and conversation creates your future and defines your relationship as well.
1. "I like you"

This might seem formal especially when it comes to saying this to your child. But this will make your child feel good about herself. Remember, "I like you" is slightly different from "I love you" because here you appreciate your child as a person.
2. "Thank you"

Children learn courtesies and basic etiquettes at home. If you show the right gesture and say 'Thank You' when needed, they will grasp this automatically. This also shows sign of respect and allows your child's training for tact and grace start at the earliest.
3. "I am sorry"

This is something most parents avoid doing. You should learn this as early as possible. If you really want to avoid this, it would be better if you check your words and activities that make you feel like
apologizing
.
4."I am proud of you"

Kids feel very good when their parents say this. Let your child feel how important and valuable they are for you.
5. "You grasp things fast"

Learning is natural, a play thing for your child initially. Appreciate their amazing talent and remember, when you say this early, it influences their learning skill later in life. Life is going to be more difficult after all.
6. "I like to spend time with you"

Instead of asking your child "how was your day", ask her to tell more. This is a kind of request made to the child so that she shares her thoughts and feelings with you.
7. "We all make mistakes"

Let your child understand that no one is perfect in this world and all make
mistakes
. One has to deal with mistakes in life and move on. Children learn to take responsibility gradually.
8. "What is your opinion?"

Even if your child is very young, give her a chance to participate in family conversation. This will exercise their decision making skills and train them to take responsibility.
9. "Let's read together"
Reading is a habit that you have to inculcate in your child. Start with reading out stories to your child even if it is during bed time to make your child love reading.
10. "I know you did your best"

Your child has worked hard.
Appreciate
the effort of your child and encourage her even if the result is not as expected. This will boost your child's self-esteem and confidence.
Above are the list of top 10 things parents should say to their child as often as required. Let your children know from you how much you love them and how much they are important for you.
Why is it important to say positive things to children? How to boost self-esteem and confidence of children? What is the importance of parent-child communication? Discuss here.