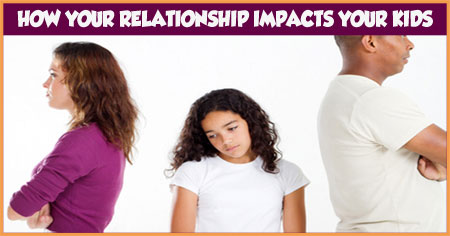 It is very important for parents to have a strong and loving relationship for having a happy married life as well as to ensure well being of children. Poor relationship between parents can deeply affect the happiness and well being of kids. Let us take a look the harmful effects of poor relationship between parents on kids.

Kids are much more sensitive than adults when it comes to interpreting and imbibing negative or
positive behaviour
of individuals around them. And they are especially sensitive to the behaviour patterns exhibited by the two people who are closest in the world to them i.e. their parents. When the relationship of parents is not okay the children are sure to get affected in a negative way. Here are some situations that can arise when children are affected by their parent's behaviour towards each other.
Mental Trauma
Child psychiatrists say that experiencing hostile
behaviour of parents
towards each other is very traumatic for kids. Most children are very resilient and very adaptive and can surprisingly adapt to difficult adaptations like
marital separation
, long distance marriages and divorce. However what makes them emotionally damaged is the presence of unresolved bitter conflicts between their parents. Some side effects that children experience in the presence of ongoing conflict is sleep issues, depression, damaged self esteem, emotional problems etc.

Lack of Perceived Safety
If you and your spouse are constantly overtly threatening each other with separation or walking out when you are creating a situation where your child feels unsafe and threatened. For a child the stability of his or her home is dependent upon the peaceful co-existence of parents. It is natural for kids to feel threatened and frightened when parents are expressing unpredictability about their own relationship. Children can assume that parents are harming each other or will harm each other and this naturally makes them feel distressed.
Being Forced to Take Sides
Children always worry that they will be forced to take the side of either of their parents whenever a conflict arises. Your children love both you and your partner equally and it is very distressing for them if they are forced to choose pleasing either one of you. Children often get caught in the middle of arguments of adults and this makes them very stressed and often forces them into
depression
. If children side with either of the parents during conflicts it creates a very unhealthy family environment.
Feeling Guilty
Children have very sensitive minds and they always assume that they are responsible for all arguments that occur between their parents. This may be especially true if you and your spouse constantly fight with each other about
parenting styles
, educational issues or financial expense in children. Your kids will feel responsible that they are the reason for the problems in your life and they may develop self loathing and poor self image. Feeling responsible for parents' problems may also drive children towards suicidal tendencies.

Development of Poor Values
Your children will learn their values and principles from you and your spouse. So if you and your partner lie to each other or shout at each other, than your kids will learn that it is okay to behave in this way. Sooner or later they will also start lying and shouting. Similarly if you are using abusive words or choosing other unhealthy mediums of communication then your kids are going to pick these up too. Being a parent means taking responsibility to become a good role model.
As a couple it is natural for you and your spouse to have conflicts. It is not humanely possible to stop arguing but what you can do is to always try and present a united front as far as your children are concerned. Find out an appropriate method and resolve all conflicts out of the earshot and eye sight of your kids.
You as a parent have a huge responsibility to ensure that your conflicts do not affect your kids.
What are the ill effects of poor parental relationship on kids? Why is it important for parents to have good relationship to raise happy and well balanced kids? How can parents avoid fighting in front of kids? Discuss here.