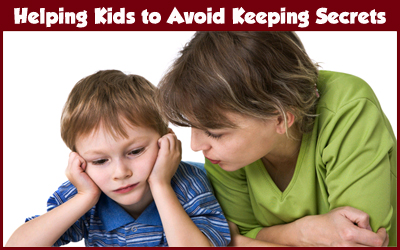 Everyone keeps some or the other secret and kids are not different. However, keeping secrets from parents most often turns very dangerous for kids. Read on to learn how to prevent kids from keeping secrets.
Kids start hiding things from parents no matter what age they are. Most of the time, the reason behind hiding things, is fear of punishments. However, this may lead to problems like child abuse, bullying and many more. So, if you are able to prevent your kid from keeping secrets you can save him from bullying, kidnapping, abuse and much other violence.
It has been observed that 90% of the time kids are abused, kidnapped or harmed in any other way by people they know. The predator starts with small secrets and if the child is able to keep that to him, he takes big step eventually. Well, you cannot always be with your child and so it is important you take steps and make your child share everything with you.
Tips to Prevent Kids from Keeping Secrets
Here are some tips which will help you to prevent your child from keeping secrets.
1. Safe Secrets and Unsafe Secrets
As soon as your child is capable of understanding things discuss the difference between safe and unsafe secrets. Give examples so that your child understands your point very clearly.
Good Secrets to Keep
Unsafe Secrets
2. Discussion About Daily Activities
When children are young, they will not be able to differentiate between a good secret and bad secret. Therefore, toddlers and pre-schoolers should be kept under "no secret" rule. The best way is to talk to them regularly and know everything they did in school, while playing or getting in or stepping down of the school bus.
3. Difference Between Privacy and Confidentiality
Once children understand that problems should never be kept secret from parents, they will like to have some space of their own. Also, you should make your child understand that gossiping about things happened within the family among friends or in public is not good. It should be kept in mind that no one's health or safety is at risk.
Once your child will develop an understanding for confidentiality, he will learn a lot. Help your child to learn healthy relationship-building skills.
4. Discussing Complex Secrets
Take time out to talk to your child and discuss with her if anything serious is worrying her. There are threats and harrying among small children also and some are unable to handle things. You need to pay attention to everything your child does or everyone he meets for some time so that you find out the exact problem that is worrying your child.
5. Developing Trust Between You and Your Child
Most often children keep secrets because they either fear or their parents do not pay attention to their problems because they think the problems are meagre. Listen to what your child is saying especially when you find him uncomfortable or disturbed.
Literature and movies are great ways to help your children know about the consequences of keeping secrets from parents. You can also act out situations to make them understand your message.
What kind of things do kids hide from parents? Why do kids keep secretes from parents? How to encourage kids to avoid keeping secrets from parents? Discuss here.