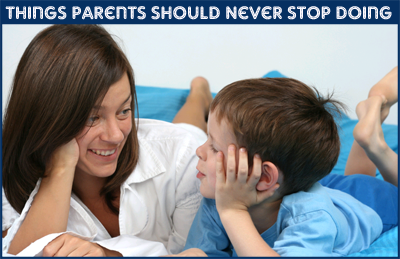 Are you aware of the things which responsible parents never stop doing? Make a note of top 5 things which you should never stop doing as a parent.

Parenthood is the best as well as the toughest period of people's life. Good parenting involves making your children feel loved, cared, and valued, and also at the same time, teaching them the difference between right and wrong. Parenthood starts from the day you get to know you are pregnant till forever – the work is never done. There are few things that you should never stop doing as a parent.

1. Always Keep Yourself Available for Your Children
Kids always look for attention, stimulation, and communication. You should never deny
spending time with your children
. Make sure to set aside a time to talk to your children and listen to what they want to say every day. Fix a day to take them to park, library, museum, zoo, etc. depending on their interests. You may have a hectic schedule, but you should never miss being with your kids during their milestones. You should be there with them be it any school function, ballet recital, or high school graduation.
2. Always Praise and Acknowledge
Your children may grow up to adults, but you shall never stop
catching them doing good
and praising them. It is important to give negative feedback to children if they are doing something wrong, at the same time, it is very important to build a positive sense of self in them by noticing something they are good at and acknowledging them for the same. If you fail in
boosting the confidence
in them, they will not feel independent or adventurous. Praise is not always with words, you can praise them with smile, hugs, kiss, treats, applause, and lots of love.
3. Always Shower Love and Affection
Never stop showing love and care to your children.
A warm hug
or a caring hug or a lovely smile does the wonder at times. Never overlook the importance of physical stimulation when it comes to your kids. If you are very busy with your work, take a small break just for a gentle cuddle, a little appreciation, a little encouragement to your kids, which can go a long way to boost your kids' confidence and well-being. Let your kids know that you love and care for them unconditionally, no matter what.
4. Always Opt for a Healthy Lifestyle
Introduce fruits, vegetables, sugar-free juices to your kids from an early childhood so that it becomes a habit and they grow up liking them. Replace junk food with healthy options. The eating habits your kid will grasp at their childhood will continue throughout their lives. Do not allow your kids to be obese couch-potatoes sunk in bad habits. Make sure your kids have enough time in playgrounds. Encourage your kids to practice yoga, do exercise, cycling, go for a walk, etc. Let them understand the meaning and importance of a healthy life as they grow up.

5. Always Be a Good Role Model
If you ask your kids to practice yoga, and you yourself sit in the couch watching TV, your children will not understand this inconsistency. You should also be practicing with them. Do what you teach – actions are more important than mere words. Your kids will grow up looking at you, and you will be the one they will be following. When you teach them good manners, make sure you are also well-mannered. Teach kids about charity. Stick to the rules you apply. Set a good example and share your feelings with them.
You may think you have inculcated all your values in your kids, and you are done with your parenting – this is not true. Kids will always turn to your advice, and still be affected by your decisions. You should always give them fathomless love and care, and keep improving your parenting skills that has no end.
What are the most important duties and responsibilities of parents? Which are the things which parents should never stop doing? How to be a better parent? Discuss here.